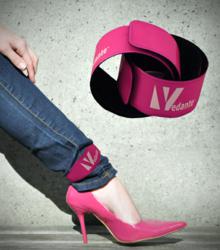 CEO and Founder Barbara Kantor states, "In addition to Vedante's POP BANDS showing up as a fashion trend, our Super Reflective Silver and Gold Dog Collars are being worn on people's necks and ankles in night clubs".
Boulder, Colorado (PRWEB) March 29, 2012
Ankle bracelets have been showing up as a fashion trend on the runway and on the streets. According to Lucky Magazine, "Would you wear an ankle bracelet? Ashley Olsen does it!"
The editors at DailyCandy.com as seen on NBC's TODAY show, say the season's hottest colors are Tangerine and Cobalt Blue.

"Tangerine: When Pantone declared tangerine the It color of the season, we knew we'd see it everywhere. The color complements all skin tones, but you don't want to dress in this bright hue from head to toe. Instead, start with a neutral base and add layers of tangerine from there"
"Cobalt blue: Another bold color we spotted during Fashion Week -- and now see on the racks -- is cobalt blue. Like tangerine, beware of dressing in the shade from head to toe; the idea is to look vibrant, not monochrome. "
Vedante's POP BANDS are an enchanting twist on the trend. They glow at night in Cobalt Blue, Tangerine, Pink, Green, Red, White or Yellow.
POP BANDS™: The Company's best-selling POP BANDS, which pop on like snap bands, use new technology and bright colors to reflect up to 1500 feet, while similar products only reflect 100-600 feet. Yellow and white POP BANDS are reflective up to 1,500 feet.
They have been developed in partnership with 3M. POP BANDS are available in a wide array of fun, fashionable colors and provide 360° visibility at night when worn on the arms, legs, baby carriages, purse straps and just about anywhere else you can think of including being worn at night clubs and sporting events. They are made with a special retro-reflective technology; POP BANDS are designed to reflect a large amount of light directly from a light source such as a car's headlights. The best part is they reflect in a wide array of colors. The suggested retail price is $12.98 for a pair of size medium bands and $13.98 for a pair of size large bands.
CEO and Founder Barbara Kantor states in addition to their POP BANDS, another products is trending, "Our Super Reflective Silver and Gold Dog Collars are being worn on people's necks and ankles in trendy night clubs".
Vedante's POP BANDS, cat collars and dog collars are available on Vedante's e-commerce website, Amazon.com in the USA, Amazon UK and select retailers (http://vedante.com/shop.html)
About Vedante:
CEO Barbara Kantor founded Vedante in 2006. Barbara's inspiration came during an evening walk when she witnessed a pedestrian being struck by a car. The pedestrian, in a cross walk, was unaware of the driver's inability to see her. Deeply impacted by what she saw, Barbara delved into research on safety and visibility and then studied reflective products that were currently on the market. Barbara's research and her 25 year background in fashion design led to her development of Vedante reflective safety products that are attractive and easy to use.
Vedante is a company committed to saving lives by increasing nighttime visibility and decreasing accidents through education, awareness campaigns, and "fashion that reflects well on you."
Vedante has consistently ranked among the top 10 best sellers in the United States at Amazon.com in its respective categories for super-reflective POP BANDS and pet accessories.
To locate a local retailer visit http://www.vedante.com.
For fashion alerts, night visibility tips, deal and fun stories follow Vedante on:
Facebook: http://www.facebook.com/Vedante
Vedante Pet Products on Facebook: http://www.facebook.com/Vedante.Pet
Twitter: http://twitter.com/VedanteFDN