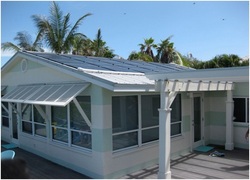 (PRWEB) July 29, 2010
Pineapplefish (1), the luxury Anna Maria rentals vacation company are leading the way in renewable energy on Anna Maria Island (2), having just completed the most extensive installation of Photovoltaic solar panels for electricity generation, and hot water heaters in their luxury vacation rentals ever seen on the island.
Photovoltaic (PV) uses sunlight to generate electricity. Solar PV cells can be arranged in panels on a buildings' roof or walls and feed electricity into the building directly. Hot water generators use simpler technology - 'black boxes' which sit on the roof and absorb the heat of the sun. This hot water feeds the domestic hot water tank, where it can be heated further if required.
Four Pineapplefish homes - Plumfish, Limefish, Honeyfish and Berryfish have just received this treatment. Solar Technical Experts Tom Stockebrand (3) led contractors Solar Direct (4) and Harriman's Inc (5). After an initial analysis, they determined how much technology would be needed by looking at the roof orientation, the amount of roof, and the size and building style of each house.
The average cost for each house was $6/watt of PV installed, which translated into $12,000 for a small home (before rebate) and $30,000 for a larger home. The current Florida State subsidy rebates 60% of these costs within the next 18 months (i.e. net costs of $4,800 and $12,000 respectively).
The homes then benefit from generating 'free' power, from selling electricity back to Florida Power and Light (FPL) for the same price, as they would have bought it (11c/kWh). If the solar is not enough, FPL continues to provide power to the house in the normal way.
Solar expert Tom Stockebrand said, "The great thing about solar power, is that the cost benefits are immediate. Including rebates from the State of up to 60%, having a much lower electricity bill, and the potential of selling what your home generates, but doesn't need, it is very appealing. When looking to install photovoltaic panels, it is important to ensure that the amount you install is consistent with the needs of the house. You must also take into consideration other energy saving devises in the home, such as CLF and LED lights, careful temperature control, solar hot water and double-glazing. All these have an impact on the energy required."
Lizzie Thrasher, said "whilst, as Green Entrepreneur's, we fully appreciate and advocate the use of green energy in our homes, I am no technical expert, so working with Tom Stockebrand, who not only is an expert, but our neighbor, and our contractors, we have received excellent guidance and we are confident that we've got it right. We are passionate about energy efficiency in our homes. When we use the air-conditioning for example, the very thing that causes the house to use energy – the heat of the sun – can now generate the electricity to cover those costs. We believe that as one of the early adopters' of this technology, we are helping to finance the research and development and creating the demand for more competitive USA manufacturing, essential in solving the climate problems we are facing".
Hot Water heating installation costs were around $5,000 per house, of which $500 is then rebated. Hot water heating in this way is very efficient, with an average pay back of the technology of only two years.
To encourage vacationers and others to switch to solar power, Pineapplefish provides information packs in each house and on the Pineapplefish website showing the electricity savings in watts and $. In addition, each house will have a prominently displayed electricity meter (running backwards!) showing the savings, and at the end of each year the numbers will be calculated and shown as a Payback for the original investment.
Notes:
1. Pineapplefish Luxury Villas
Pineapplefish is a collection of 7 luxury villas rentals on the beautiful Island of Anna Maria, on Florida's Gulf Coast. All our homes are luxurious, stylish and all were chosen for the fantastic often waterfront locations with breathtaking views. Each of our luxury villas are unique and finished to the highest standards and whichever home you choose, each is full of high tech equipment such as flat screen TVs and wireless internet, combined with an eclectic mix of styles and designs, with luxurious furniture, high quality soft furnishings and original artifacts and often, original paintings hand-picked from the islands network of talented artists.
2. Anna Maria Island is an undiscovered hidden gem on Florida's Gulf Coast. With average temperatures of 84F/26C, exquisite white sandy beaches and the clearest Gulf seas, it offers complete, indulgent relaxation. And, the Island has it's own 'Old-Florida' charm, low-rise houses, tropical plantings, quirky shops and world class dining. You may never want to go home!
3. Tom Stockebrand is a solar expert, having worked at MIT Lincoln Lab for 7 years and 28 years at Digital Equipment Corp. In 1976 after moving to Albuquerque he build his own Solar house and in 1982, Tom converted a pickup truck to pure electric, and have been driving pure electrics ever since. In 2002 Tom, retired and moved to Florida. 3 key issues drive Tom:
i. Power plants throw away 2/3 of the energy in the fuel (coal, oil, gas, uranium) that they burn. What a waste of increasingly precious fuels.
ii. Electric vehicles are so much more efficient than gasoline ones, they use so little electricity that the cost per mile for fuel is well below that for petrol even with higher cost electricity from solar panels. It's as if gasoline cost around $1 per gallon. So buy an EV (available soon) and charge it from the sun! And heat pumps that use the temperature of the ground as a heat source (winter) and sink (summer).
iii. Zero net energy means building a building with great insulation, LED lights, solar hot water etc, so that it uses little enough energy that you can get the remainder from a solar array that's cheap enough, that the return on investment is still reasonable.
4. Solar Direct is a leading company for renewable energy, offering a wide spectrum of products and services. http://www.solardirect.com
5. Harriman's specializes in domestic hot water solar power systems, sales and installation and are based in Venice, Florida. http://www.solarbyharrimans.com
6. The current rate of federal rebate is 60% of the cost of the equipment. In the future, the federal rebate will be 30%, which is enough to make the installation feasible in many cases.
7. The cost of PV Solar Panels is $6/watt, of which $4.00 was due back as a rebate. The average house uses between 15 and 30 mega watt-hours per year. A 5kW solar array here in FLA provides around 8 megawatt hours per year (40%) and costs $30K ($21K after federal rebate). The resulting saving of around $1,000 per year yields a return on investment of 5% of the value of the installation per year at current rates, getting better as the rates inevitably rise. A larger array will give more of a return, but once installed, people tend to add improvements and use a lifestyle that reduces energy use in the first place, increasing the payoff incentive.
# # #