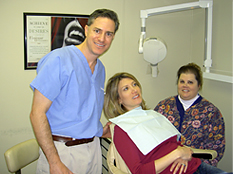 Family Dentist Annapolis MD
Annapolis, MD (PRWEB) May 29, 2013
Today, Annapolis Dental Care and Annapolis Dentist has announced a new special offer for patients who require a root canal, offering $100 off of a root canal procedure. As one of the more complicated and expensive procedures done in a dental office, reducing the cost of a root canal by $100 can be a significant savings for the patient, making a root canal much more affordable for everyone. As a participant in the Care Credit and The HELP Card credit programs, virtually any patient who needs a root canal can have it done easily and more affordable than ever.
Dr. Steckler, DDS has been practicing family dentistry for over 20 years, bringing his expertise in preventative oral care, extractions, sedation dentistry and emergency dental care to the Annapolis, Maryland patients, one patient at a time. As a cosmetic dentist, he also offers teeth whitening, crowns, bridge work, dentures, implants and veneers so his patients can look their best. Dr. Steckler states, "I believe a patient comes first. [Their] comfort, care and dental health are my main concern."
With their years of experience and stated mission for patient comfort and care, Annapolis Dental Care is an established company that is well known for being a quality cosmetic dentist. For those patients who require either regular or emergency dental care, Annapolis Dental Care offers the best available dental services in the Annapolis area and now with their special $100 off root canal offering and flexible payment alternatives, they offer patients the most affordable dental care as well.
Dr. Scott Steckler has employed Get Local for all their dental seo marketing. To learn more about Get Local, visit getlocalmaps.com.