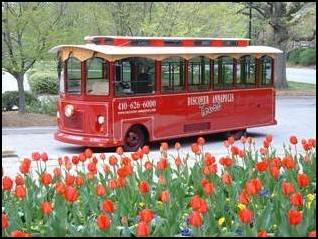 Looking at homes for sale has never been so much fun and informative
Annapolis, MD (PRWEB) March 20, 2007
What's new in real estate? It's hard to find anything truly unique or creative in the "put up a sign" and "put it in the MLS" world of marketing homes.
Ellis Richman, a top sales-associate with Long & Foster Real Estate's Annapolis/Eastport office recently wondered if it could be possible to show potential buyers of Historic Annapolis, MD residences all of the Historic homes for sale on an old-time trolley. So Ellis created the nation's first Historic Homes-for-Sale Trolley Tour.
As a Certified Historic Home Specialist, he is uniquely qualified to show locals, visitors, and anyone interested in learning which homes are available, and also hearing about these homes' historic background and anecdotes. The unique trolley tours are offered on Sundays; the latest dates, times, and ticket information are available at http://www.HistoricHomeValue.com.
P. Wesley Foster Jr., chairman and founder of Long & Foster Real Estate, Inc. said, "There are many unique aspects with historic properties that make them very different from modern residential properties. If you are buying or selling a piece of history, you really want an experienced professional to guide you through the process. Ellis Richman, with certification as a Historic Property Specialist, and a track record of being one of the top agents in the country, is ideally suited to help both sellers and buyers with their historic property real estate needs."
"Looking at homes for sale has never been so much fun and informative," says Neil Schecht, an attorney from Tampa, Florida. "Ellis really knows these homes. Not just the bare bones facts about the homes for sale, but about the historical significance of many of them - even to the tiniest details like how the kitchen is updated or if the decor is historically correct. I especially like the idea and comfort of the 'old-time' style wooden trolley, so I can include my entire family."
Richman has been a top-producing Realtor for almost 20 years, and loves telling stories about homes for sale located in the 355 year-old community. "Anyone looking for a home in Historic Annapolis will really enjoy taking this tour. There is no way to view the homes easily from your car; the bird's-eye view from the trolley offers exceptional visibility. It's a fun tour for anyone that wants learn more about Historic Annapolis homes for sale."
The one-hour tour departs from the Market House at the corner of Dock Street and Main Street and winds through Historic Annapolis' brick paved streets. Each participant receives complete real estate listings that are updated daily with all of the homes for sale that they're previewing, so the tour itinerary varies as new homes come on the market and homes already on the market are sold.
If you'd like more information about this topic, or to schedule an interview with Ellis Richman, please contact him at 410-260-2817 or by email.
###