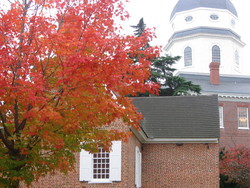 Side Lights on Maryland History.
Annapolis, MD (PRWEB) August 21, 2007
Seven score and 17 years ago, the construction of the James Iglehart Residence of 183 Prince George Street broke ground. In fact, this remarkable 1850 Historic Annapolis residence, which is located directly across from the famous William Paca House and Gardens, speaks volumes - especially now that it is a slice of Historic Annapolis' history that someone can actually own. "In-Deed" in Historic Annapolis, the James Iglehart Residence was recently placed on the market for sale for $1,395,000.
The mansion has a rich past: A prominent merchant, Mr. Iglehart began construction in 1850, and completion took almost 3 years. Iglehart's home is described in historian and author Hester Dorsey Richardson's book entitled "Side Lights on Maryland History." Mr. Richardson's description of James Iglehart: "Iglehart was a leading inhabitant of the capitol city, whose fine mansion on Prince George's Street suggests the luxurious life."
Iglehart outlived his son, James Iglehart III, was a Civil War soldier in Company A of the Maryland 1st Battalion. He was killed at the Battle of Gettysburg and his valiant death at Culp's Hill is described in the book "Wasted Valor" by author Greg Coco.
Now over a century-and-a-half later, the James Iglehart Residence is available for a new owner.
Five yeas ago, the home was meticulously and luxuriously restored by the current owners who purchased the home from Captain John Wallace, USNA. As soon as they walked in they fell in love with the beautifully detailed white marble fireplace in the formal living room which Wallace said was purchased from the Governor's mansion. No expense was spared to bring the fine old mansion back to its prime. "We said to ourselves, this is an opportunity to bring a piece of history back to life, so let's do it right. We hired one of the best historic contractors. The house restoration was a long and expensive process, but the final result speaks for itself. From the top of the roof to the bottom of the floors, the home was painstakingly restored, and in every possible instance brought far beyond today's standards of stately excellence.
"`We love to cook, and our kitchen was extremely important to us. We chose a Viking range and Viking exhaust hood, Bosch dishwasher, the very best of everything. We are certain that if Mr. Iglehart were still here, he'd approve of our home. He spared no expense to build it, and we spared no expense to restore it."
Ellis Richman, a Prince George Street neighbor who is a Certified Historic Home Specialist with Long and Foster Real Estate, Inc. is representing the home. Richman says, "This is the finest restoration of a historic home that I have ever had the opportunity to sell. The charm and character of Iglehart's original home is still seen throughout the home, from the ornately patterned radiators to the original fireplace hearth. Yet everything has been restored. Wiring, plumbing, air conditioning, even moldings were stripped to the wood - everything.
Whoever purchases the Iglehart Residence will really be amazed, and Prince George Street is one of the most beautiful streets in the city." Richman will be gifting the future owner a framed copy of the hand-written deed recordation from 1853 that he discovered when researching the Maryland State Archives, in which the home is registered in the historic inventory.
"The best window trimming: Our home has a magnificent view of the Paca House, and you can even see its reflection in our front windows." How many homeowners can say that?
Want to see architectural pictures of the home? Visit http://www.183PrinceGeorgeStreet.com . Or if you happen to be looking for a very special one-of-a-kind perfect home for you and your family in the Annapolis Historic District, give Ellis Richman a call for a personal showing (qualified buyers only).
"It's not all about history. For example history continues to be in the making. Just earlier this year, our house was on the parade tour for the Governor's Inauguration."
For Interviews, contact:
Ellis Richman
Certified Historic Home Specialist
Long & Foster Real Estate, Inc.
320 Sixth Street
Annapolis, MD 21403
410.260.2817
Ellis @ HistoricHomesAnnapolis.com
###