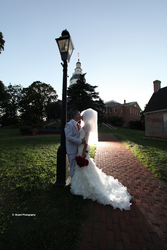 The Only Bridal Fair showcasing Downtown Annapolis
Annapolis, MD (PRWEB) March 8, 2011
Located in downtown Annapolis, the Historic Inns of Annapolis is comprised of three unique inns that have been welcoming guests for centuries. While visiting the Bridal Fair, Brides can imagine their wedding in the heart of the Maryland State capital, walking distance from the glorious Chesapeake Bay waterfront and the stirring sites and sounds of the United States Naval Academy. Long known as the perfect wedding location, Annapolis is a wonderful backdrop for joyful and memorable occasions. In the heart of it all are the elegantly charming facilities of the Historic Inns of Annapolis, where Presidents, Statesmen, and especially Brides have been coming for over 250 years.
The Bridal Fair will be located in The Governor Calvert House where guests will be treated to "A Night in the Villa" in the Atrium which will feature many delectable samples of the Historic Inns fine wedding foods and drink. Next, guests can enjoy "A Day at the Fair" in the Calvert House Ballroom where they can meet with the area's top wedding vendors for items and services to help plan their special day including award-winning photographers, musicians, DJ's, cakes and confections, stationery and many others. On the Terrace, Brides can take advantage of the lounge atmosphere to relax and listen while Comcast's Wedding 411 Host and Wedding Designer Drew Vanlandingham holds presentations on "How to pick the Perfect Dress" and "Planning Your Glamorous Wedding".
The Historic Inns of Annapolis will be offering special Bridal Fair rates and services for Brides attending the Fair. Attendees will also be eligible to receive gift certificates and door prizes supplied by the vendors, and a Grand prize of a two night stay plus dinner and free parking will be awarded to one lucky engaged couple by the Historic Inns. Don't miss the downtown Annapolis Wedding experience and the opportunity to enjoy the Historic Inns hospitality, charming atmosphere, excellent customer service, wonderful Treaty of Paris Restaurant, and beautiful venues for all of your wedding events.
The annual Historic Inns of Annapolis Bridal Fair takes place on Sunday, March 27, 2011; from noon to 4 p.m. Tickets are available for $8 in advance and $10 at the door. The bridal fair is located at the Governor Calvert House, 58 State Circle, Annapolis, MD 21401. Click here for tickets or to book special Maryland Day Room Rates. Contact 410-216-6326 or e-mail michellevellon(at)historicinnsofannapolis(dot)com for detailed information.
###