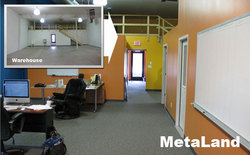 Ann Arbor is a pioneer in the internet industry and its community atmosphere is extremely conducive for growing web-based businesses
Ann Arbor, MI (PRWEB) September 17, 2009
Undeterred by a challenging economic climate, MetaSpring, LLC (MetaSpring), a leading web consultancy and digital marketing firm, opened its doors in a newly renovated warehouse space this summer to make room for expanding employee and client needs. In order to manage increasing client demands and a newly diversified service offering, MetaSpring nearly doubled their employment rate over the last few months.
MetaSpring's new office opened on June 15, 2009 at 704 State Circle on Ann Arbor's south side. After two months of intense renovations, the new office now reflects the company's innovative approach to web design and marketing. The renovation efforts added a conference room, creative design space and band room - all painted in bright, distinctive colors. The new office reflects the company's innovative approach to web design and marketing. The unique space will host future networking events and seminars on a variety of internet programs and services.
"Ann Arbor is a pioneer in the internet industry and its community atmosphere is extremely conducive for growing web-based businesses," said Joe Minock, head of MetaSpring's Sales and Business Development Department. "The University of Michigan, Ann Arbor Spark, A2 Geeks, Coffee House Coders and others have already laid a solid foundation to support the acceleration of our industry's growth."
While Michigan's unemployment rate recently reached 15 percent, according to CNNMoney.com, its business community continues to foster growth with businesses like MetaSpring and other Michigan web design companies leading the way. Southeastern Michigan has seen marked growth in the tech sector following the departure of Pfizer and other pharmaceutical businesses.
"This community has a very educated and progressive population with business leaders who understand the value of the internet and realize that websites should be more than just brochures," said co-founder John Paul Narowski. "Additionally, Ann Arbor has benefited from an increased availability to resources and networking groups, which is allowing for local businesses to expand beyond state boundaries."
About MetaSpring, LLC:
MetaSpring is a privately owned Digital Marketing Consultancy in Ann Arbor, Michigan that is focused on maximizing the effectiveness of marketing campaigns in all of their forms. MetaSpring's highly trained development and design teams assist clients in areas of logo design, dynamic web application development, search engine marketing, scalable e-commerce solutions, web hosting and IT guidance. Through custom-made proprietary software, MetaSpring has developed several methods of measuring the results of their marketing campaigns. Since their rebranding in 2006, MetaSpring has been a leader in Michigan Web Design. The web consultant has been able to craft custom solutions for clients of all sizes and industries by building strong relationships with those they work with and in the public eye.
For more information and a portfolio of previous work, please visit MetaSpring.com.
More info, along with pictures regarding the office opening can be found here: http://www.metaspring.com/blog/company/new-office/
CONTACT
Case Ernsting
Case (at) MetaSpring.com
734.585.5781
# # #