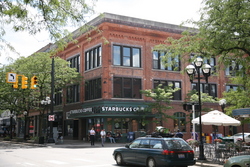 I figured the prices are pretty depressed and that it would be a good time to buy
Ann Arbor, MI (PRWEB) October 17, 2008
Ann Arbor real estate firm Piper Partners.com announced today that now is a perfect time for college parents to consider purchasing Ann Arbor real estate.
Andy Piper, who owns the Ann Arbor-based real estate firm, said that lately, more University of Michigan parents and students see the value in buying instead of renting in the city's vibrant downtown.
"An interesting trend I'm seeing is a strong demand for downtown Ann Arbor condominiums. Students and professionals want to live downtown in a walkable urban place. The people who see the great value there are shopping for and buying condominiums."
Why?
"The prices are much lower than in the recent past because of the falling market, making this high quality home much more affordable," Piper said. "In the past, kids and parents would mostly rent. But today, they see the value of owning. It's a good investment."
Public-sector employers the University of Michigan and the University of Michigan Health System contribute to the area's economy and its real estate's long-term value, Piper notes.
Alex Taylor, 20, would agree. He is one of Piper's recent customers. Piper recently sold a spacious downtown Ann Arbor luxury loft to the University of Michigan college student and his parents.
"I figured the prices are pretty depressed and that it would be a good time to buy," Taylor said. "I put out some feelers, talked to Andy, and he showed me the place, 101 West Liberty. I'm renting it out to two other college students who are both my friends. It's a pretty good time."
The property is one of 12 lofts in the mixed-use development at Main and Liberty Streets. Formerly a racquetball club, it incorporates design details of high ceilings and original racquetball court floors. Taylor's friend also owns a unit in the building. Together, they serve on property's co-op board as President and treasurer.
"It's a great way for kids to learn management skills and responsibility," Piper said. "They have to find a roommate and learn how to manage property."
Buyers love properties close to Ann Arbor's vibrant downtown, which is full of interesting shops, great restaurants and a lively nightlife.
The hottest Ann Arbor condominiums for college students now are:
Liberty Lofts, urban Ann Arbor loft condominiums.
Loft 322, downtown Ann Arbor, Michigan lofts.
Ashley Terrace, downtown Ann Arbor high-rise condominiums.
River House condominiums, affordable condominiums near U of M medical school and campus.
Ashley Mews, downtown Ann Arbor townhouse condominiums.
Five reasons college student or parents of a college student should opt to purchase Ann Arbor real estate instead of rent:

Ample tax benefits are involved when you own a home.
An August study released in August by Web real estate portal Cyberhomes.com (a division of Fidelity National Financial) ranked Ann Arbor as the top-three place among nationwide college cities to buy a single family home instead of rent. Analysis showed an average home's mortgage payments and taxes per month at $1,235 per month. Rent for the same type of home would be $1,605/ month. Source: Cyberhomes.com (2008)
College housing markets weather economic crises. According to a study by Businessweek.com, Ann Arbor real estate outperformed the rest of the state from 2006 to 2007. Ann Arbor homes prices were down 2 percent compared to 3 percent statewide. Ann Arbor's median home price in 2007 was $220,000 compared to $116,900 elsewhere in Michigan. Source: Businessweek.com (2007)
Research universities like the University of Michigan attract thousands of students who live work, play, and often stay, in the lively Ann Arbor community. That means a steady influx of potential future renters for those buying homes and condos now. Source: Anderson Economic Group study (2007).
Ann Arbor is an economic engine for the state, with steady mega public sector employers like the University of Michigan, with 16,143 employees; the University of Michigan Health System, with 12,000 employees; and Trinity Health, with 4,500 employees. Source: Annarborspark.org (2007), Anderson Economic Group study (2007).
###