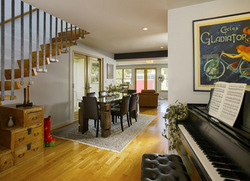 We were humbled to once again be recognized for our work on a national stage
Ann Arbor, MI (PRWEB) December 15, 2009
Architectural Resource, LLC, a leading Ann Arbor architectural design firm, was honored at the national Remodeling Show 2009 Qualified Remodeler Master Design Awards, receiving design awards in seven different categories. This marks the second year in a row that Architectural Resource was the single most recognized firm at this prestigious design competition. The awards included two Gold awards; one for Michigan's first USGBC LEED for Homes Platinum level remodel in the "Green Remodeling" category, and one for an innovative bathroom remodel from the same home. This LEED Platinum home was also recognized with a first ever "Judges Vision Award" for an outstanding project that the judges felt deserved extra kudos.
Architectural Resource was also presented with two Silver awards. One in the "Kitchen Remodel $50K - $100K" for a Not-So-Big® inspired addition and kitchen remodel, and one in the "Residential Specialty" category for a unique stair made from recycled 2x floor joists and hammered iron in the LEED Platinum home. Additionally they were pleased to receive a Bronze award in the "Whole House $200K - $500K" category and an Honorable Mention in the "Residential Specialty" category for a unique piece of custom furniture design using recycled 180-year-old oaken beams salvaged during demolition for the project. Although not a winner, the firm also placed as a Finalist twice in the "Room Additions" category. All projects were located in Michigan. The firm also earned accolades with a JANUS awards for one of their projects being recognized with a first place award at both the Southern Building Show's Chrysalis Design Awards and the Master Design Awards program.
Now in their 31st year, the Master Design Awards is the premier design award program for residential remodelers and designers. This program is distinguished from other award programs by the strict peer-to-peer nature of the awards. Only active remodelers and designers are invited to review the entries. This year's judges were handpicked and recruited from all over the United States. After having been recognized at six previous Qualified Remodeler MDA programs, Architectural Resource is very pleased to again be honored at this prestigious forum.
The Gold award winning USGBC LEED for Homes Platinum level project was a whole house remodel of an 1830's home located in the Kerrytown District of Ann Arbor. This remodeling project was the first to be certified at the Platinum level in Michigan and only the fifth in the entire nation. Preliminary research suggests that it may in fact be the oldest home in the nation to have achieved the Platinum certification level. A modest addition was added to the house along with a complete redesign of the existing home. This included the incorporation of a 'bicycle staging area' to accommodate the homeowners' Green lifestyle choosing bicycling as their primary means of transportation. Among other Green features the home underwent a major energy efficiency upgrade with its 1,820 s.f. now heating and cooling for on average $35 a month… in Michigan! The builder colleague and close collaborator on the project was Meadowlark Builders.
The Silver award winning Kitchen remodel was a component of an addition project that incorporated Sarah Susanka's Not-So-Big® inspired design approaches intended to enhance the utility of modest spaces and give homeowners the maximum return on their investment. Staving off the cost of excessive square footage allowed their clients to reallocate resources for such special touches as Motawi custom tile accents and soap stone counter tops. The kitchen also incorporated unique features such as a 'hide-away' family message board which echoed the architectural-arched window motif elsewhere in the project. The project was built by Stricklen Building Company with Expo Kitchen and Bath and is and is located in the Ann Arbor Hills area of Ann Arbor.
"We were humbled to once again be recognized for our work on a national stage, and very pleased to showcase to the country that good things are indeed happening in Michigan," said Michael Klement, AIA, founder of Architectural Resource.
About Architectural Resource
Architectural Resource, headed by Michael Klement A.I.A., N.C.A.R.B., is a full-service, Ann Arbor based, architectural design firm specializing exclusively in residential design of custom homes, cottages, additions, remodels and renovations with an emphasis on Green and sustainable design. http://www.architecturalresouce.com
# # #