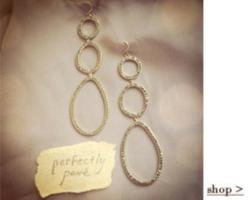 This way of launching a shop really engages with the local community.
San Francisco, CA (PRWEB) November 15, 2012
Holiday shopping can be a daunting experience - fighting the crowds, wading through aisles of crowded products feeling exhausted and overwhelmed. Why not create a unique shopping experience where consumers can enjoy wine tasting at a local winery and socializing with friends while shopping for the latest in urban chic jewelry from trendy Chloe + Isabel?
The first of two upcoming events will be held on Saturday, November 17th from noon-6 p.m. at Portalupi Tasting Room, 107 North Street in Healdsburg, California. http://www.portalupiwine.com/wines.html Portalupi wines are known for their flavorful, intense wines. Every wine is bursting with flavor and customers will be able to taste the latest in Portalupi wines. Jane Borges, co-owner of Poratlupi Wine Co. comments "Our wines are meant to be enjoyed with friends and we love to support other small businesses. It sounded like fun to invite locals in to taste our wines and do a little holiday shopping with an exclusive line of jewelry. Who doesn't love to do holiday shopping with a glass of wine in hand."
Pop-up shops have increased in popularity with retailers such as high-end Nordstrom announcing this week the opening of 6 pop up shops in 2013 which will feature the latest rising fashion designers. Pop-up shops give consumers an opportunity to see a fresh product in a unique and interactive setting. Anne Hess, Merchandiser Manager for Chloe + Isabel states "I wanted to create a truly engaging and fun shopping experience. Partnering with a local winery to showcase their wines and introduce locals to our innovative jewelry sounded like fun. I wanted to make it effortless for customers. They can enjoy fine wines and socialize with friends while shopping. We even ship their product in a delightful package to wherever they choose."
Following Thanksgiving on Saturday, November 24th, Chloe + Isabel, will be popping-up again at Tsillan Cellars http://www.tsillancellars.com/ in Chelan, Washington for a "Barrels and Bling" event. From 1-5 p.m. guests will be able to do barrel tasting while shopping for the latest in holiday bling from Chloe + Isabel. Tsillan Cellars is known in the region for their award winning estate wines and stunning Tuscan winery with restaurant.
Chloe + Isabel is a socially dynamic jewelry line sold only through "Pop-Up Shops" and online boutiques. The jewelry has been featured in Glamour, Vogue, Real Simple, US Weekly and other fashion publications. To book a Pop-Up Shop, contact Anne Hess.