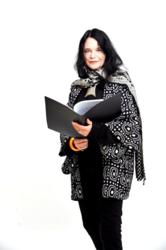 "A highly original 'open field investigator' of consciousness."
BOULDER, Colo. (PRWEB) August 22, 2012
Naropa University and the Jack Kerouac School of Disembodied Poetics announces that Anne Waldman, Distinguished Professor of Poetics, and Artistic Director, Summer Writing Program, and co-founder of the Jack Kerouac School of Disembodied Poetics, has been awarded the PEN Center USA 2012 Literary Award for Poetry for The Iovis Trilogy: Colors in the Mechanism of Concealment (Coffee House Press, 2011). In a review of The Iovis Trilogy, Publishers Weekly wrote, "Waldman has in four decades of books and events stayed strange, a charismatic outsider, even as her long career has gathered respect."
As writer, editor, teacher, performer, magpie scholar, infra-structure curator, and cultural/political activist Waldman helped to create and nurture the "Outrider" experimental poetry community. A prominent figure in the beat poetry generation, she was a founder and director of The Poetry Project at St. Marks's Church. Waldman says she remains "a highly original 'open field investigator' of consciousness, and is committed to the possibilities of radical shifts of language and states of mind to create new modal structures and montages of attention."
"Anne Waldman is a Naropa University treasure," says Naropa President, Charles. G. Lief. "From our founding in 1974 she has been essential to the creation of our internationally renowned Jack Kerouac School of Disembodied program and has taught, inspired and challenged two generations of poets, prose writers, performers and change agents who are making a positive mark through their work. Anne is an ambassador for Naropa as she travels the world and we could not be prouder to have her as a Distinguished Professor of Naropa University."
In addition to The Iovis Trilogy: Colors in the Mechanism of Concealment, she has published more than forty books of poetry, including Manatee/Humanity (Penguin, 2009), and Structure of the World Compared to a Bubble (Penguin, 2004). Her poetry has garnered numerous awards, including The Dylan Thomas Memorial Award, The Poets Foundation Award, The National Literary Anthology Award, and The Shelley Memorial Award for poetry.
Waldman has presented her work at conferences and festivals around the world, most recently in Beijing, Berlin, Nicaragua, Prague, Kerala, Mumbai, Calcutta, Marrakech, and Madrid. At Naropa, Waldman works to preserve the school's substantial literary and oral archives. She has edited and co-edited many collections based on the holdings of the Kerouac School including, Civil Disobediences (Coffee House Press, 2004) and Beats at Naropa (Coffee House Press, 2009).
PEN Center USA has a membership of more than 600 professional writers. PEN Center USA strives to protect the rights of writers around the world, to stimulate interest in the written word, and to foster a vital literary community among the diverse writers living in the western states.
The Jack Kerouac School of Disembodied Poetics was founded in 1974 by Allen Ginsberg and Anne Waldman. The School is comprised of the Core Writing Seminars, a BA in Writing and Literature, an MFA in Writing and Poetics, a low-residency MFA in Creative Writing, and the internationally renowned Summer Writing Program.
The Jack Kerouac School emphasizes innovative approaches to the literary arts. Our programs problematize genre while cultivating contemplative and experimental writing practices. Each year, we invite over 60 guest writers and artists, including the Allen Ginsberg Visiting Fellow and the Leslie Scalapino Memorial Lecturer in Innovative Poetics. This distinguishing feature fosters an intensely creative environment for students to develop their writing projects in conversation with a community of writers.
Naropa University is accredited by the Higher Learning Commission and a member of the North Central Association of Colleges and Schools. Naropa University is a private, nonprofit, nonsectarian liberal arts institution dedicated to advancing contemplative education. This approach to learning integrates the best of Eastern and Western educational traditions, helping students know themselves more deeply and engage constructively with others. The university comprises a four-year undergraduate college and graduate programs in the arts, education, environmental leadership, psychology and religious studies. To learn more, visit http://www.naropa.edu.
View a video of Anne Waldman talking about Naropa's Summer Writing Program
###