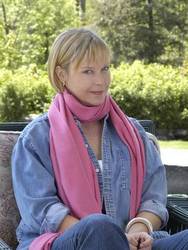 The patterns are very livable--and the base colors work well with existing décor in many customers' homes.
Kennett Square, PA (Vocus) February 4, 2009
If you've been reading any of the "shelter books" lately-- House Beautiful, Traditional Home, Domino or Country Living -- you've seen cover stories and articles about Annie Selke. This talented dynamo has just launched the ANNIE SELKE HOME label and introduced collections of decorative fabrics by P/Kaufmann and furniture by Vanguard. The fabrics are available at retail exclusively at the Calico Corners - Calico Home stores across the country and the furniture frames may be found there too.
Like most overnight sensations, Selke has been working non-stop for the past 15 years to get to her entrepreneurial venture to this point. She is assisted by her husband, Whit, who takes care of operations and sourcing, and 130+ employees at their new offices in the Berkshire Hills of western Massachusetts. Selke is also the talented designer behind Pine Cone Hill bedding, sleepwear and furniture, tableware from Potluck Studios and rugs from Dash & Albert (named for one of her Clumber spaniels and a deceased basset hound). Now with fabrics for the home that also work on furniture and bedding, the bright and sunny Annie Selke look all comes together.
Multi-Talented, Multi-Tasking Designer
To know Annie Selke is to get caught up in a whirlwind of design decisions, color trials, new product launches, trade show planning and press interviews. She may delegate, but she does not abrogate. The color and design decisions are hers--and she has very definite ideas about what works and what does not. Selke worked closely with the Calico Corners merchandising team in planning which fabrics would be featured, the choice of furniture frames and even the store presentation. She sees herself as a product developer as much as a designer and knows how important it is "to complete the thought" when it all lands in a retail store. The customer should be inspired and impressed.
The product details are critical--from the scale of a pattern to the pitch of a chair. Selke makes sure that the colors are on cue, but also veers away from an overly coordinated look. "It's all about finding colors in common. They don't have to match exactly," she notes in an interview in the February 2009 issue of House Beautiful. "I think that's what makes a room more inviting and less like a hotel room, where everything matches and there's no energy."
Approachable Elegance
"I take things from the past and make them relevant for today," says Selke. And that sums up her design philosophy of approachable elegance. Her patterns are clean and unfussy. The bright florals and bold stripes are inspired by classic patterns but rendered in bright colors or bold combinations for a more modern take on traditional design. She thinks that rooms should be inviting, sophisticated and evoke happiness. Needless to say, Annie Selke does not do rooms in 20 shades of beige.
It All Started With Wallpaper
Selke's long love affair with vintage patterns was influenced by the Colefax & Fowler wallpaper in her room at boarding school. After attending the Fashion Institute of Technology in New York City, Selke worked in merchandising and product development for Lord & Taylor, Saks Fifth Avenue, Ferragamo, the Conran store and the Museum of Folk Art. She has always been a world traveler and flea market maven. Gathering inspiration wherever she goes, Selke collects ideas for patterns and products that work their way onto the drawing board and eventually into the line.
In 1994, deciding that it was time to work for herself, Selke secured a contract for a line of chair pads. Although she had never designed a chair pad before, she was unfazed. Working on an industrial sewing machine on her dining room table, Selke started piecing fabrics together and so began the business called Pine Cone Hill. In time, that led to bedding and even sleepwear.
Double Covers
To appear on the cover of two major magazines in two months is quite a coup--and Selke's new home collection was recently featured on the February cover of House Beautiful (in a home in Cape Cod) and the Holiday issue of Traditional Home (in her home in the Berkshires). This new cover girl has earned the attention of top magazine editors with good reason. Her products are well designed in colors that are uplifting--and they sell. "The Annie Selke Home collection is the most successful launch in recent years," notes Jan Jessup, director of communications for the Calico Corners stores. "The patterns are very livable--and the base colors work well with existing décor in many customers' homes."
Calico Corners - Calico Home stores provide expert decorating advice and free in-home design consultation in more than 100 stores across the country. Consumers will find thousands of designer fabrics for the home at value prices; custom window treatments, blinds and shades; custom upholstered furniture, plus decorative accessories and more. Thousands of fabrics are available online. For more information or to find the nearest store, visit http://www.CalicoCorners.com or call (800) 213-6366.
Contact:
Jan Jessup
(610) 444-9700, Ext. 262
###