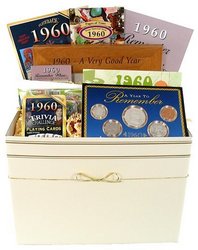 The latest trend in buying birthday gifts and anniversary gifts is for customers to realize that every birthday and anniversary are special ones,
Auburn, NY (Vocus) May 18, 2010
We've all been there with our gift giving: we remember the "big birthdays" or the "big anniversaries," but what do we give someone when the event doesn't end in the number five? What birthday gift do you buy someone turning 49? What happens when you need an anniversary gift for someone married 42 years? BirthdayandAnniversaryGifts.com solves this problem for gift buyers. They have expanded their anniversary gifts by year for every year from 1920-2001. They now also offer year you were born gifts for the same year range to help shoppers find unique birthday gifts based on the year they were born or day they were born. The majority of the gifts sold can be used both for birthday gifts and anniversary gifts, because they are year themed, rather than event themed. They are one of the leaders of age specific birthday gifts in the industry.
Year you were born gifts are one of the emerging trends in the gift industry. The baby boomers out there are making this trend popular because of their innate interest in nostalgia, history and information about they year they were born.
BirthdayandAnniversaryGifts.com is capitalizing on the trend by offering an expanded line of year you were born gifts.
For example, if you are looking for a 44th birthday gift, for someone born in 1966, BirthdayandAnniversaryGifts.com sells a gift basket that contains 1944 themed items, such as a 1944 picture frame, 1944 circulated coin set, a 1944 CD of music from that year, a 1944 DVD of events that happened that year and other trivia items.
However, BirthdayandAnniversaryGifts.com does not ignore the milestone birthdays either. If you need 50th gifts they sell over thirty different 50th birthday gifts and 50th anniversary gifts.
For someone born in 1970 or married in 1970, BirthdayandAnniversaryGifts.com offers the popular 40th gifts, such as the Stamp Art, which is a framed print of stamps that honor that year. For more budget conscious customers, there is a 1970 time capsule which offers a variety of candies, 1970 trivia and allows the customer to personalize the time capsule at an affordable price. 40th gifts can be used for either a wedding anniversary or a birthday celebration.
For 60th gifts, there is a 1950 event book which contains information about they year in a coffee table book style format with magazine advertisements, black and white photographs, glossy pages and trivia. The customer can personalizes this 60th gift with their own message to the recipient.
"The latest trend in buying birthday gifts and anniversary gifts is for customers to realize that every birthday and anniversary are special ones, " said Lisa Klima, owner of BirthdayandAnniversaryGifts.com. "We are seeing expanded sales in the area of non-milestone birthdays and anniversaries as people are now able to find gifts that mark a particular year. There is a growing interest in the area of historical trivia by year, and BirthdayandAnniversaryGifts.com is committed to helping people meet that need."
For any birthday, you can buy birthday newspapers which show the top news event from the birthday person's month and year, combined with other facts from the year like the top films, music, celebrities also having the same birthday month, cost of living pricing and other fun trivia. It's a great source of birthday news and a conversation piece.
BirthdayandAnniversaryGifts.com has a section on their site that displays anniversary gifts by year, which includes links to anniversary gifts for any year such as an anniversary newspaper, year greeting cards, and wedding anniversary poems. For the anniversary gift shopper, they include a list of the traditional anniversary gifts from 1-60 for comparison.
The anniversary newspaper is unique because it lists the anniversary couple's names at the top, the number of days they have been married since the wedding, the major headline from the wedding month, top news events from that year and a few fun facts from the year. Below the wedding year information are events from earlier anniversaries they have already celebrated and their corresponding news events. For example, if a couple has been married for 50 years, the lower half of the anniversary newspaper would show what happened for their 40th wedding anniversary, silver wedding anniversary and their 10th anniversary.
They do a similar thing for birthdays. In their year you were born gifts, there are the day you were born gifts, and trivia booklets for the year you were born. The day you were born gift allows you to receive a list of all the historical events that occurred on your birth day throughout history. For example, if you were born on May 6th, it lists all the notable events for May 6th throughout all the years of history, including world events, noteworthy sports events, and headlines. For your specific birth year, it will say the birthday person's name, and announces their birth for that year. There is also a space at the bottom to add a short personalized message to the birthday boy or girl.
In addition to year gifts for every year, BirthdayandAnniversaryGifts.com added birthday poetry to its site, which customers can customize for any birthday gift with their own personalized message to the birthday celebrant at the bottom of the framed poem. They also added meaning of your name prints which take a person's first name and lists personality traits and characteristics for each person's name, along with the meaning of the name. The prints come framed in an oak picture frame and are printed on either a forest artwork or cottage artwork. There are several happy birthday poems to choose from.
BirthdayandAnniversaryGifts.com urges customers to think about every birthday and every anniversary and to purchase year you were born gifts or anniversary gifts for both milestone birthdays, milestone anniversaries and non-milestone events.
###