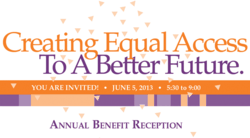 All three regional leaders have also been recognized for their work to improve communities on Long Island.
Freeport, NY (PRWEB) May 27, 2013
Scott Williams, Frederick Brewington and Wilma Holmes Tootle, all Freeport residents, are working to create racial equity on Long Island. All three are members of ERASE Racism's 2013 Annual Benefit Planning Committee. Money raised from the annual benefit helps the regional civil-rights organization lead public policy advocacy campaigns to promote racial equity in housing, public school education, public health and community development.
Scott Williams is responsible for designing and implementing a strategic vision for the Office of Alumni Relations, working to engage alumni in a lifelong relationship with St. John's University. Mr. Brewington is a prominent civil rights lawyer who focuses on affordable housing, community revitalization efforts, employment, the environment, voting rights, and equal representation in government. Ms. Holmes Tootle, A retired educator, has served many roles as a teacher, principal, dean of women, and director of personnel for the Uniondale School District. This will be Ms. Tootle's third year in a row as co-chair of the Benefit Committee.
All three regional leaders have also been recognized for their work to improve communities on Long Island. In 2011, Networking Magazine named Scott Williams as a recipient of its David Award for his "dedication to community". The Long Island Press named Frederick Brewington one of the top 50 most powerful people on Long Island due to his dedication and work to civil rights. In 2008, Wilma Holmes Tootle was honored as a "Living Legend" by the Alpha Kappa Alpha Sorority.
ERASE Racism is honored and grateful to have the help of these recognized Long Islanders.
The organization's 2013 Annual Benefit will take place on June 5th at the Garden City Hotel. The honoree will be Kenneth I. Chenault, Chairman and CEO of American Express. Mr. Chenault will be recognized for his for his life-time commitment to creating racial justice and promoting racial diversity. Also recognized will be Jobco Incorporated for its commitment to increasing quality affordable housing on Long Island. For more information and to buy tickets please visit http://www.eraseracismny.org.
About ERASE Racism: ERASE Racism is a regional organization that leads public policy advocacy campaigns and related programmatic initiatives to promote racial equity in areas such as housing, public school education and healthcare. It engages in a variety of research, education and consulting activities to identify and address institutional and structural racism, primarily on Long Island.