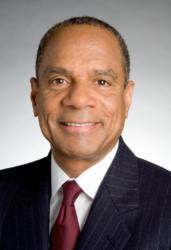 Kenneth Chenault has proven that the role of a leader is not just to meet the goals of the organization, but to do so with integrity and by matching actions with values.
(PRWEB) April 23, 2013
On June 5th ERASE Racism will honor Kenneth I. Chenault, Chairman and Chief Executive Officer of American Express Company, at the organization's 2013 Annual Benefit Reception. A Long Island native, Mr. Chenault has gone on to head one of the most powerful businesses in the world and has proven that the role of a leader is not just to meet the goals of the organization, but to do so with integrity and by matching actions with values. ERASE Racism will honor Mr. Chenault for his life-time commitment to creating racial justice and promoting racial diversity.
Mr. Chenault holds a JD from Harvard Law School and a BA in history from Bowdoin College, and he has received honorary degrees from several universities. At Bowdoin, he added his voice to the demands to increase diversity amongst the student body and faculty. When Bowdoin was preparing to appoint its first African-American professor, he helped lead a drive to ensure that it would be more than symbolism, lobbying for the appointment to be in one of the school's major departments. The bid succeeded when Bowdoin named an African-American professor of science, biology and chemistry.
In his twelve years as Chairman and CEO of American Express, Mr. Chenault has prioritized developing a strong corporate culture that attracts top talent and enables people of diverse backgrounds to thrive. Currently, multicultural talent makes up nearly 20% of the company's managers. The company's various African American and Hispanic diversity initiatives are directly addressing the barriers to the advancement of multicultural talent.
All large corporations have a social responsibility, Mr. Chenault has explained, adding that philanthropy is one way to fulfill that obligation, as well as, time providing opportunities for employees to volunteer. Mr. Chenault recognized the benefit diversity and leadership could bring to the nonprofit sector, that's why he led the company's involvement to develop emerging leaders at nonprofit organizations. He has participated in all nine of the American Express U.S. Leadership Academies, an advanced, week-long leadership training program for high potential nonprofit leaders. The company has provided leadership training grants to over 200 nonprofit organizations and is a leader in the corporate community in providing such grants.
ERASE Racism is thrilled to have Kenneth I. Chenault as its 2013 Abraham Krasnoff Courage and Commitment Award Honoree. The event will take place on June 5th at the Garden City Hotel. Tickets can be purchased at http://www.eraseracismny.org.
About ERASE Racism: ERASE Racism is a regional organization that leads public policy advocacy campaigns and related programmatic initiatives to promote racial equity in areas such as housing, public school education and healthcare. It engages in a variety of research, education and consulting activities to identify and address institutional and structural racism, primarily on Long Island.