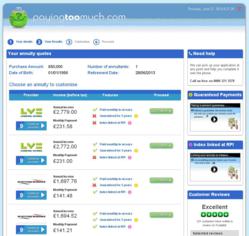 Scottish Widows joins the PayingTooMuch.com annuity panel making the service one of the most comprehensive available.
Chichester, UK (PRWEB UK) 27 June 2013
Independent comparison website PayingTooMuch.com has added the newly launched Scottish Widows enhanced annuities to its consumer annuity service.
"I believe we are the only online comparison service to currently provide rates from the new Scottish Widows enhanced offering," says PayingTooMuch.com's Head of Annuities, Ali Richards. "Consumers will be able to view personalised quotes online from all providers, including Scottish Widows, based on their medical and lifestyle details."
"Our customers now have access to eleven providers offering annuity rates to allow them to access the best retirement income from their pension savings. Enhanced annuities pay a higher income to people with medical or lifestyle conditions, such as smoking or diabetes. We are working really hard to secure the best retirement incomes for our customers and the new Scottish Widows annuity gives an additional option."
In April this year, PayingTooMuch.com launched its fully online, personalised, consumer annuity quote calculator for retirement incomes (annuities). It factors in an individual's health and lifestyle (like smoking and being overweight), from a panel of different insurance companies taking into consideration over 3100 medical conditions.
The PayingTooMuch.com Annuity Service aims to underwrite every individual as experience shows many people believe they are perfectly fit and healthy, but from an underwriting point of view they may qualify for a better quote based on conditions that are well under control such as high blood pressure. Also, the customer's postcode and marital status can play a part too, increasing the retirement income for otherwise-healthy people.
To access the quotes, an individual must know the value of their pension (or savings) pot available to purchase an annuity which can be as low as £1,000, their planned retirement date, whether they want a single or joint (which includes married or unmarried including same sex couples, and financially dependent children) annuity. They will need to provide details about their medical conditions and answer a couple of basic lifestyle questions. Those with medical conditions or who smoke could receive higher retirement annuities as their life expectancy is lower, so it is important to disclose everything.
The PayingTooMuch.com annuity journey asks about height, weight, smoking status and alcohol consumption, and for individuals to consider whether they have suffered from any of the major medical conditions, before offering the customer an annuity result of any kind.
Multiple personalised quotes are produced showing the best retirement incomes for a level paying annuity, an annuity linking income payments to the RPI, and an income with a guaranteed payment period after death. These quotes are guaranteed for a limited period of time and once a customer proceeds to the application stage the PayingTooMuch team deals with all the paperwork to make the process as simple as possible for them.
PayingTooMuch.com offer a non-advised service and cap their commissions at 2.25% (lower at 1.35% where there are no medical conditions) with an absolute monetary limit of £1,600. This compares to a maximum commission charge of 3.5% charged by Hargreaves Lansdown (CityWire 15 Apr 2013).
PayingTooMuch.com calculates level, RPI linked, non-guaranteed and guaranteed quotes simultaneously so clients can see exactly which options cost what in retirement.
Alison Richards
PayingTooMuch.com
ali(dot)richards(at)payingtoomuch(dot)com