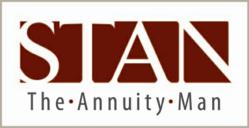 I'm happy to offer it to the consumer for free, and proud to continue my efforts to educate the public on annuities
(PRWEB) May 07, 2013
Annuity expert Stan The Annuity Man is proud to announce the launch of his new annuity app available on iPhones and iPads everywhere. This financial tool gives investors important information at their fingertips 24/7 from the nation's leading annuity consumer advocate. Delivering the guaranteed part of your portfolio, Stan describes the different annuity strategies, provides resources, lays out facts, and gives out annuity quote estimates for a happier and more secure financial future.
"From what I am told, I am the first independent annuity agent to have their own iPhone & iPad app," says Stan The Annuity Man. "I'm happy to offer it to the consumer for free, and proud to continue my efforts to educate the public on annuities."
The annuity app provides a better user experience where investors can now access important financial information at their fingertips in the privacy of their own home. Features present on the app include a download of Stan The Annuity Man's highly acclaimed book, The Annuity Stanifesto, which clearly describes the different types of annuity products, how they work, and how to utilize annuities to achieve financial goals. Other features include an Annuity Calculator and an annuity quote estimate for IncomeNow and IncomeLater.
"The quote engine and 'Stanalysis' is a simple and efficient way for the public to learn about the best national quotes based on their specific situation without ever having to speak or meet anyone," says Stan.
Every plan Stan The Annuity Man puts together is based solely on the contractual guarantees that the policy will provide, not what it might hypothetically provide. His goal is to find the right solution with the right company to contractually solve a person's specific goals.
"The Stan The Annuity Man app will continually be upgraded and added with all things annuity," says Stan. "The app is geared toward educating the public with easy to understand information and simple explanations."
Download the free app today by visiting https://itunes.apple.com/us/app/id626982157
About Stan The Annuity Man
Stan The Annuity Man is a nationally recognized expert on annuities known for his transparency, honesty and endless research. He has spoken at every major financial trade show in the United States, and is rigorously independent, representing all major carriers that meet his uncompromisingly high standards. With a financial background that spans some of the major wirehouse organizations such as Dean Witter, Morgan Stanley, Paine Webber and UBS, Stan brings to his clients an informed clarity and "insider" wisdom that makes him extra careful and cognizant of risks and how to avoid them. Stan The Annuity Man's mission is to give each client his undivided personal attention and to become a trusted member of their "Financial Team." With clients nationwide, Stan is known for his fly-to-your-home, coast-to-coast service no other annuity company provides. For more information visit http://www.stantheannuityman.com