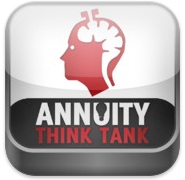 Annuities? There's an App for that!
Houston, TX (PRWEB) November 28, 2012
Need up-to-date annuity information on the go? Hate unpacking the laptop and trying to find a wireless connection in order to find information for a client? Just pull out your favorite tablet or smartphone...now there's an App for that. The Annuity Think Tank has released the most robust annuity app for financial professionals. The informational content of the mobile app mirrors the massive amount of educational content found on the Annuity Think Tank homepage.
"We created the Annuity Think Tank app to be functional, easy to navigate, informative and educational," says Nathan Lee, Chief Marketing Officer of Annuity Think Tank. "The app transforms my iPad into a completely mobile education and sales center when I'm away from the office."
The majority of the content is housed in the "More" section of the app. Users will find the annuity calculator, videos, articles, reports, and an up-to-date annuity product grid. The App is available for Android devices through Google Play or for Apple products through that App Store. Just search for "Annuity" in the Finance or Education categories.
The Annuity Think Tank App contains many of the top features from the Annuity Think Tank website including:

Whitepapers
Videos
Blogs
Annuity Product grid
Annuity Calculator request
And many more...
Device Requirements:
Compatible with iPhone, iPod Touch, and iPad and Android devices
Requires iOS 4.3 or later or Android 2.1 and up
Pricing and Availability:
Annuity Think Tank Version 1.1 is free and available through the Apple App store or Google Play.
About Annuity Think Tank
Annuity Think Tank's vision is to be the first place advisors and consumers come to for innovative annuity solutions, unbiased annuity education, annuity research, and the most comprehensive annuity information on the web. Advisors and financial professionals, please visit our site designed for you at Annuitythinktank.com. For further questions contact us toll free at (855) 888-6494 or email us at info(at)annuitythinktank.com. We appreciate any and all feedback including new video ideas, blogs, and annuity concepts.