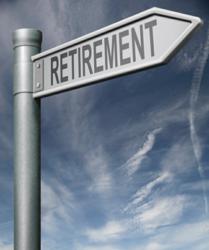 It is extremely difficult to second guess what will happen in the economy and the impact that will have on retirement income
(PRWEB UK) 29 August 2012
Annuity rates have plummeted 24% since July 2008. This fall has been driven by a number of factors in the economy, largely the £375 billion of quantitative easing undertaken by the Bank of England.
The research undertaken showed that 37% of respondents were concerned about money and their retirement income. To see whether these concerns were justified TheRetirementCentre.com undertook further research with an audience who had recently retired.
This research found that indeed the drop in rates had been realised in their retirement income expectations, 15.7% of respondents said they received a retirement income that was far worse than they had expected, an additional 30.6% of respondents said that their income was lower than they had expected it to be.
Dominic Fraser Smith, Managing Director of TheRetirementCentre.com said "People approaching retirement now are facing the decision whether to hold off buying an annuity or not. We would suggest that people don't hold off, in the expectation that rates will increase. The reason for this is that rates could fall further, this could be through continued economic turmoil, further quantitative easing or impact from future legislation, such as the new European Gender Directive which we already know will reduce male rates when it comes into force in December this year.
He continued to say "It is extremely difficult to second guess what will happen in the economy and the impact that will have on retirement income. For those approaching retirement make sure that your pension is invested in safe assets, so you are not exposed to shock movements in the money markets. Then when you are ready to purchase your annuity make sure that you shop around providers, as you could see a significant increase to your retirement income. You can shop around either yourself or use one of the reputable annuity comparison services that will do this on your behalf."
###
Notes to editors:
TheRetirementCentre.com is a leading retirement specialist, designed to help everyone over the age of 50 through the challenging process of retirement for free. Through our selected partners we are able to offer market leading products and services for the over 50's market. From maximising retirement income with our whole of market annuity service through to finding the lowest utility rates or even just saving our customers money on everyday purchases and a whole lot more. We often comment and are quoted on a wide range of issues affecting our existing and potential customers.
Dominic Fraser-Smith has 15 years Financial Services experience. Prior to establishing TheRetirementCentre.com Dominic worked for Aviva plc, where he held a number of senior positions in the Equity Release and At Retirement teams. During this period Dominic was also Director of Safe Home Income Plans the Equity Release trade body. He frequently provides comment on issues for the over 50's and is happy to be contacted directly for his view and opinion.