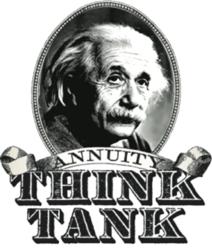 Annuity Think Tank, the #1 site for all things annuity related, announces their blog broke through the 1,000 blog mark this week.
Houston, Texas (PRWEB) November 30, 2011
Annuity Think Tank, the #1 site for all things annuity related, announces their blog broke through the 1,000 mark this week. An incredible feat considering that Annuity Think Tank has no full time or part time employees or bloggers. All 1,000 blogs can be accounted for by the 5 members of Annuity Think Tank who take time out of their busy day to give useful and educational annuity advice through the blog site. The 5 members have dedicated many hours to making the blog the best annuity based blog on the web.
The Annuity Blog began in September 2010 as a marketing message board for financial planners. Shortly after the first 100 blogs were complete, Annuity Think Tank shifted course and turned the blog into an annuity educational platform for both consumers and financial planners alike. The blogs range from simple annuity frequently asked questions to in depth research on lifetime retirement income and retirement planning. The most current blog categories on the site are as follows:

401k Topics
Annuity Case Study
Annuity Comedy
Annuity Education
Annuity FAQ's
Annuity Miscellaneous
Annuity Product Review
Annuity Rates
Annuity Rebuttals
Annuity Television
Annuity Think Tank
Celebrity Annuity Endorsements
Estate Planning
Fixed Annuities
Income Annuities
Index Annuities
Life Insurance
Lifetime Income
Pensions
Precious Metals
Retirement Planning
The Economy
Variable Annuities
About Annuity Think Tank
Annuity Think Tank's vision is to be the first place advisors and consumers come to for innovative annuity solutions, unbiased annuity education, annuity research, and the most comprehensive annuity information on the web. Consumers, if you are interested in learning more about your current annuity, a new annuity, or basic to advanced annuity concepts, please visit the consumer site, Theannuitythinktank.com, for more information. Advisors and financial professionals, please visit our site designed for you at Annuitythinktank.com. For further questions contact us toll free at (855)888-6494 or email us at info(at)annuitythinktank.com. We appreciate any and all feedback including new video ideas, blogs, and annuity concepts.
###