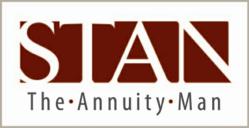 (PRWEB) October 11, 2012
Annuity expert, Stan The Annuity Man, also known nationally as "The Annuity Consumer Advocate," identifies the three levels of annuity strategy protection built in to today's regulated annuity industry. Regulated at the state level rather than the federal level, annuity products have a guarantee fund that backs up at a certain level. When deciding on an annuity designed for specific needs, there are defense strategies in place and steps one can take to ensure their money is safe and secure, says Stan The Annuity Man.
"Annuities are confidence products," says Stan The Annuity Man. "If someone who owns an annuity doesn't get a payment for whatever reason—say the company goes out of business—the annuity industry is over because no one will have any faith in the annuity industry. They almost self-regulate."
Annuities have three levels of protection:
1) The carrier
2) The state's guarantee fund
3) The insurance industry itself
The first line of defense, and the first place annuity owners depend on the safety of their money, is the carrier that issued the annuity policy. Stan The Annuity Man highly recommends going to that company's website and researching their strength and safety. Asking an agent or advisor for additional background research is also advisable before making a purchase, says Stan.
"If something happens to that carrier, the second line of defense would be that state guarantee fund," says Stan The Annuity Man. Each state has established a guarantee fund that backs all annuities issued in that state, up to a specific dollar limit.
Lastly, the third level of protection is what Stan The Annuity Man calls the 'insurance conglomerate.' The insurance industry recognizes the self-regulation annuities maintain, and therefore they make sure to protect this ongoing confidence' with clients and future clients.
"The bottom line is that when compared to other places that you can put your money, annuities are a comparably safe place for a portion of your portfolio," says Stan The Annuity Man.
For more information about Stan The Annuity Man's three levels of annuity protection, please view his recent video. To check a state's guarantee level visit Stan's website at http://www.stantheannuityman.com/.
About Stan The Annuity Man
Stan The Annuity Man is a nationally recognized expert on annuities known for his transparency, honesty and endless research. He has spoken at every major financial trade show in the United States, and is rigorously independent, representing all major carriers that meet his uncompromisingly high standards. With a financial background that spans some of the major wirehouse organizations such as Dean Witter, Morgan Stanley, Paine Webber and UBS, Stan brings to his clients an informed clarity and "insider" wisdom that makes him extra careful and cognizant of risks and how to avoid them. Stan The Annuity Man's mission is to give each client his undivided personal attention and to become a trusted member of their "Financial Team." With clients nationwide, Stan is known for his fly-to-your-home, coast-to-coast service no other annuity company provides.