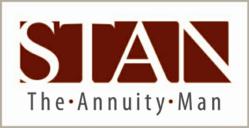 (PRWEB) November 20, 2012
Annuity expert, Stan The Annuity Man, explains the reasoning behind planning an annuity program with his easy to remember acronym P.I.L.L test used to determine the 4 problems annuities solve– Principal protection, Income for life, Legacy, and Long term care/confinement care. When solving for PILL problems within a portfolio, National Consumer Annuities Advocate, Stan The Annuity Man, finds the right solution with the right company to contractually solve specific goals.
How to use the P.I.L.L. test to determine if an annuity program is needed:

P- Principal Protection
I- Income for life
L- Legacy
L- Long term care/confinement care
Annuities are products designed to transfer the risk of what they want to achieve. In essence, investors are transferring the risk to the insurance company, instead of shouldering the risk themselves. And because most annuities have minimums of about $5000, annuities are affordable for everyone and not just for the rich like many may think. Though they are life insurance products, they can be designed for many specific situations. In many cases, it may take multiple annuities to solve a specific problem.
"I always advise people to look at their total portfolio and see how much risk they are shouldering and how much risk they have transferred," says annuity expert, Stan The Annuity Man. "Most people are alarmed how little of risk the have transferred when they look at their portfolio in that manner."
Stan The Annuity Man ensures every annuity plan is customized depending on the client's specific situation. Annuities are customized products, with customized strategies, and customized solutions, and therefore Stan does something many other brokers don't – listen to what the client is trying to achieve, understand what they want to do with their money, and recognize what they want the money to do in return. Representing more than 100 companies with an A rating or better, Stan puts the right annuity plan together based on the answers the client gives, their age, net worth and portfolio. Looking at only the contractual guarantees, Stan provides the solution with the worst case scenario outlook so the client knows that number will be there.
Learn more about the PILL test here to view Stan's recent video. To contact Stan The Annuity Man or to learn more about financial plans, visit http://www.stantheannuityman.com/ or email stan(at)stantheannuityman(dot)com.
About Stan The Annuity Man
Stan The Annuity Man is a nationally recognized expert on annuities known for his transparency, honesty and endless research. He has spoken at every major financial trade show in the United States, and is rigorously independent, representing all major carriers that meet his uncompromisingly high standards. With a financial background that spans some of the major wirehouse organizations such as Dean Witter, Morgan Stanley, Paine Webber and UBS, Stan brings to his clients an informed clarity and "insider" wisdom that makes him extra careful and cognizant of risks and how to avoid them. Stan The Annuity Man's mission is to give each client his undivided personal attention and to become a trusted member of their "Financial Team." With clients nationwide, Stan is known for his fly-to-your-home, coast-to-coast service no other annuity company provides.