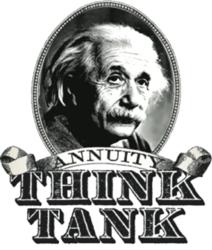 to provide the most comprehensive annuity database in the industry
Houston, TX (PRWEB) December 06, 2011
Annuity Think Tank, the #1 site for all things annuity related, announces their membership with Annuity Rate Watch to provide the most comprehensive annuity database in the industry. Annuity Rate Watch has been the leader in online annuity information and has created the most powerful annuity search engine for financial professionals. The members at Annuity Think Tank spent considerable time investigating the right annuity database partner, and Annuity Rate Watch was the clear winner.
Today's financial advisor and consumer want a single site where they can come for all of their annuity information, including current product rates and specifications. Annuity Think Tank's website was one of the best annuity resources and annuity guides in the industry, but lacked an annuity database. With the membership into Annuity Rate Watch, that problem has been resolved.
The Annuity Rate Watch data feed found on Annuity Think Tank's home site incorporates every top annuity carrier's current product lines, rates, commissions, product comparisons, annuity illustrations, and a powerful product search engine. The latest version will allow users to download full application kits including consumer brochures and state specific applications. The custom site also allows for historical and guaranteed income illustrations.
About Annuity Think Tank
Annuity Think Tank's vision is to be the first place advisors and consumers come to for innovative annuity solutions, unbiased annuity education, annuity research, and the most comprehensive annuity information on the web. Consumers, if you are interested in learning more about your current annuity, a new annuity, or basic to advanced annuity concepts, please visit the consumer site, Theannuitythinktank.com, for more information. Advisors and financial professionals, please visit our site designed for you at Annuitythinktank.com. For further questions contact us toll free at (855)888-6494 or email us at info(at)annuitythinktank(dot)com. We appreciate any and all feedback including new video ideas, blogs, and annuity concepts.
###