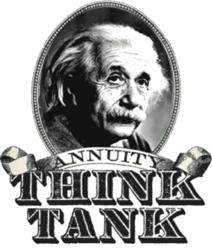 Annuity Think Tank recently gave a rebuttal to Dave Ramsey on his view of fixed and fixed indexed annuities.
Houston, Texas (PRWEB) December 15, 2011
Annuity Think Tank, the #1 source for all things annuity related, recently gave a rebuttal to Dave Ramsey on his view of fixed and fixed indexed annuities. One of the Think Tank members quoted, "Although Dave Ramsey is undeniably one of the best resources for consumers looking to eliminate debt, his published views on annuities were unclear and unfair to his consumers." The Annuity Think Tank team made sure to clarify all of the missing points in their rebuttal that is posted on their annuity website. The PDF rebuttal can be found here at Dave Ramsey Annuity Rebuttal.
As consumers are turning to annuities for lifetime retirement income, it is important that they know all of the facts both good and bad. Annuity Think Tank is constantly publishing material along with searching the web for annuity information. When they come across solid, unbiased information, they always share it with their readers. Similarly, when they see information that appears biased, lacks valid points, or needs further clarification, they are the first to correct the owners of the material. It is crucial that today's consumers have reliable and credible information at their fingertips before they ever make the decision to purchase an annuity.
About Annuity Think Tank
Annuity Think Tank's vision is to be the first place advisors and consumers come to for innovative annuity solutions, unbiased annuity education, annuity research, and the most comprehensive annuity information on the web. Consumers, if you are interested in learning more about your current annuity, a new annuity, or basic to advanced annuity concepts, please visit the consumer site, Theannuitythinktank.com, for more information. Advisors and financial professionals, please visit our site designed for you at Annuitythinktank.com. For further questions contact us toll free at (855)888-6494 or email us at info(at)annuitythinktank(dot)com. We appreciate any and all feedback including new video ideas, blogs, and annuity concepts.
###