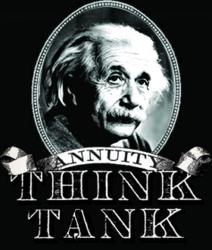 Reveals their re-branded Annuity Think Tank logo.
Houston, TX (PRWEB) December 28, 2011
Annuity Think Tank, the #1 site for all things annuity related, reveals their re-branded Albert Einstein logo. The latest logo change marks the third official logo for the dynamic Think Tank in the last 2 years. Annuity Think Tank member Jason Chaifetz asserts, "In a digital world where the only thing constant is change, we strive to be more dynamic than our entire competition. Whether it be our logo, our content, or the videos we produce, the team is relentlessly changing as they see fit".
The original Annuity Think Tank logo contained one of the founder's admirers, Ben Franklin, featured inside the Think Tank logo template created by Jeff Holman. As time progressed, Ben Franklin was replaced by one of the country's most well-known thinkers, Albert Einstein. The second rendition of the logo featured Albert Einstein with part of his brain exposed. This logo version became quite popular and recognizable, yet turned a few people off due to the exposed brain.
Today, the Annuity Think Tank caters to both financial advisors and consumers who are looking for annuity information on the web. As the Think Tank site transformed from a financial advisor value add to purely an educational platform, the logo needed to convert as well. Although the exposed brain was a symbol for knowledge and intelligence, the Think Tank team believed it needed to be covered up as their popularity increases.
About Annuity Think Tank
Annuity Think Tank's vision is to be the first place advisors and consumers come to for innovative annuity solutions, unbiased annuity education, annuity research, and the most comprehensive annuity information on the web. Consumers, if you are interested in learning more about your current annuity, a new annuity, or basic to advanced annuity concepts, please visit the consumer site, http://www.Theannuitythinktank.com, for more information. Advisors and financial professionals, please visit our site designed for you at Annuitythinktank.com. For further questions contact us toll free at (855)888-6494 or email us at info(at)annuitythinktank.com. We appreciate any and all feedback including new video ideas, blogs, and annuity concepts.
###