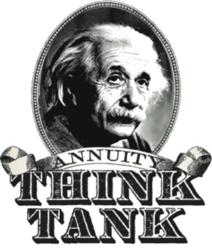 Annuity Think Tank is officially live on the business section of yelp.com.
Houston, Texas (PRWEB) December 07, 2011
Annuity Think Tank, the most comprehensive website for annuity education, announces they are officially live on the business section of Yelp. The purpose of Yelp is to connect people with great local businesses. Although Annuity Think Tank operates nationwide, it is important for consumers and clients to not only be able to find them on business sites like yelp, but to also rate and review them for prospective users to see. The Yelp site has over 22 million local reviews and helps millions across the country find reputable companies to do business with.
Annuity Think Tank is always looking for testimonials and reviews from clients, and encourage any user to post their experience in dealing with Annuity Think Tank. Annuity Think Tank continues to be an accredited business with the Better Business Bureau and strives to continue to bring unbiased and educational material regarding annuities to their site each week.
About Annuity Think Tank
Annuity Think Tank's vision is to be the first place advisors and consumers come to for innovative annuity solutions, unbiased annuity education, annuity research, and the most comprehensive annuity information on the web. Consumers, if you are interested in learning more about your current annuity, a new annuity, or basic to advanced annuity concepts, please visit the annuity consumer site, Theannuitythinktank.com, for more information. Advisors and financial professionals, please visit our site designed for you at Annuitythinktank.com. For further questions contact us toll free at (855)888-6494 or email us at info(at)annuitythinktank(dot)com. We appreciate any and all feedback including new video ideas, blogs, and annuity concepts.
###