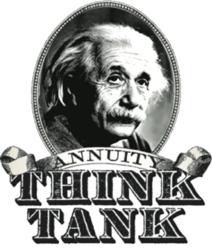 Annuity Think Tank YouTube Channel Breaks The 1 Million View Mark
Houston, TX (PRWEB) November 21, 2011
Annuity Think Tank, the #1 site for all things annuity related, is proud to announce that their YouTube Channel officially broke through the 1 million view threshold. The customized YouTube channel was started back in Aug 30, 2010 and the first video was titled " Joe Simonds Explains Indexed Annuities, Part 1". Today, the Annuity Think Tank channel has over 70 professional and educational videos regarding annuities, and adding more each week.
Annuity Think Tank was first put on the video map with the animated video titled, "The Truth about Fixed Indexed Annuities" which now has over 36,000 hits. The next video to go viral within the insurance industry was the Annuity Think Tank Parody Interview with Terrell Owens. Today, the video has over 50,000 hits. The Annuity Think Tank group has recently moved to annuity educational videos that can mutually benefit both financial advisors and consumers.
Videos have recently become the latest trend to bring education and content to the web. In fact, Youtube recently became the #2 search engine in the US. Furthermore, Google is now indexing videos to ensure the most relevant videos are now showing up right alongside the top related webpage search results.
The biggest obstacle was that there were so many insurance agents and annuity producers already online discussing their views on annuities. Many of them were very unprofessional and extremely biased towards their beliefs and affiliations. Annuity Think Tank took a different angle and published videos that were unbiased and purely educational. The numbers speak for themselves as Annuity Think Tank blew past 1 million views.
About Annuity Think Tank
Annuity Think Tank's vision is to be the first place advisors and consumers come to for innovative annuity solutions, unbiased annuity education, annuity research, and the most comprehensive annuity information on the web. For further questions contact us toll free at (855)888-6494 or email us at info(at)annuitythinktank(dot)com. We appreciate any and all feedback including new video ideas or concepts.
###