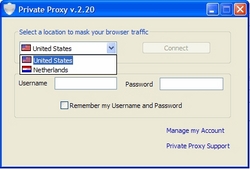 Tampa, FL (PRWEB) February 22, 2008
PrivacyView Software, LLC the developer of award-winning Internet and computer privacy software, today announced the availability of its first international server option for its Anonymous Proxy Server, Private Proxy.
PrivacyView Software initially launched an anonymous proxy service in the United States. With the demand from users for additional IP addresses and servers located outside of the United States, PrivacyView has added its first international location in the Netherlands giving users more freedom to keep their anonymous surfing secure.
PrivacyView's anonymous proxy software is extremely easy to install with no need for any technical expertise. It is only a matter of installing the software, selecting the preferred anonymous proxy server location and launching their browser; Private Proxy will then automatically hide the users IP address from the World Wide Web. In addition, both anonymous proxy server locations apply 128 bit SSH encryption to the users' Internet communication giving them extra security when they are surfing from a WiFi hotspot, airport or hotel.
With the additional anonymous proxy server location in the Netherlands, users now have the choice of US or European IP addresses. Each of the anonymous proxy servers automatically randomly rotates IP addresses every 30 minutes giving the user different IP addresses to keep their anonymous surfing secure.
The software comes with a 7 day free trial allowing users to decide if they want to keep the service without having to spend any money. PrivacyView software offers two subscription options, $9.95 a month or $24.95 a quarter.
About PrivacyView Software:
PrivacyView Software, LLC is a privately held company headquartered in Tampa, Florida. Founded in 2003, the company creates and markets privacy software for consumers. The company and its products have won numerous technology awards. For more information about PrivacyView, its awards and its affiliate program, please visit http://www.privacyview.com.
###