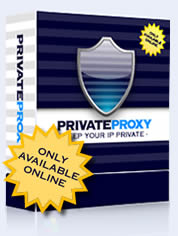 Privacy and Google Chrome, Now it's possible to have both!
Tampa, FL (PRWEB) June 23, 2011
Privacy Partners, LLC the developer of Private Proxy Software, announced today that they now support Google Chrome with their anonymous proxy software, Private Proxy.
With the increase in the browser market of Google Chrome, Privacy Partners added it as a supported browser within their anonymous proxy product, Private Proxy. The previous version of Private Proxy supported Mozilla Firefox and Internet Explorer.
"Just in the past month, 36% of our website visitors came from Firefox, 32% came from Internet Explorer and 20% came from Google Chrome. It only made sense that we needed to support Google Chrome with its increase in the browser market," stated Martin Greif, president of Privacy Partners.
Google Chrome has a lot of security features to help protect your computer from Malware, Phishing and Security Risks, but it does not protect your Internet privacy. Google is known for collecting information regarding your Internet surfing while using their search engine but now with their own browser, they can track everything you are doing while surfing the Internet.
If you are concerned about privacy then you need to make sure you have unchecked the "Automatically send usage statistics and crash report to Google". This setting is under the Tools – Options – Under the Hood. There are more options to help with security and some to help with privacy, but the one mentioned above protects your privacy from Google collecting your browsing usage. Google states this is to better enhance your surfing experience, but it is your privacy and thus your decision to share or not to share this information.
One of the main features that Private Proxy offers is encryption for your Internet browsing traffic which helps protect your privacy on the Internet. Once you access one of the anonymous proxy servers, all of your browsing traffic is encrypted. Now in conjunction with Google Chrome, your security and privacy can be protected while surfing the Internet.
The anonymous proxy service, Private Proxy, comes with a 7 day free trial and is only $9.95 per month after the trial.
About Privacy Partners, LLC:
Privacy Partners, LLC is a privately held company headquartered in Tampa, Florida. Founded in 2003, the company creates and markets privacy technologies for individuals and small businesses. The company and its products have won numerous technology awards. Visit our Private Proxy site to sign up for a free trial of our anonymous proxy. To learn more about Internet Privacy or Privacy Partners, please visit our corporate site at http://www.PrivacyPartners.com.
###