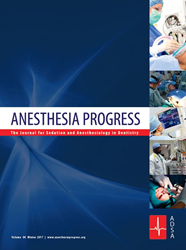 Anesthesia-based treatment is both safe and effective in pediatric dentistry.
Lawrence, Kansas (PRWEB) September 06, 2017
Anesthesia Progress – As the number of children receiving treatment for dental decay has increased, so has the need for safe and effective anesthesia during such procedures. However, records of the success of ambulatory anesthesia in pediatric dentistry have almost always been non-existent. The recent inception of a database recording the demographics and success rates of ambulatory anesthesia in pediatric dental treatments now allows researchers to examine said statistics. Based on previous records, researchers have provided a secondary analysis that goes into more depth regarding the outcomes of pediatric dental procedures.
Researchers from the Indiana University School of Dentistry and the Indiana University School of Medicine in Indianapolis recently published a study in the current issue of Anesthesia Progress that examines outcomes of pediatric dental procedures involving ambulatory anesthesia. The data examined came from the Society for Ambulatory Anesthesia Clinical Outcomes Registry; a database that allows ambulatory physician and dentist anesthesiologists to examine patient demographics and procedural outcomes. The authors of the study provided a secondary analysis of data collected in the database from 2010–2014.
A total of 7,041 were reviewed, with children ranging in age from under 6 years old to 18 years old. Of those children, 5,960 (84.6%) were younger than 6 years old, 816 (11.5%) were between 7 and 12 years old, and 265 (3.76%) were between 13 and 18 years old. The researchers focused on three categories of adverse events resulting from anesthesia: those that occurred predischarge, postdischarge, or any adverse occurrence (including those occurring both predischarge and postdischarge).
The review showed that the most common predischarge event was laryngospasm (0.5%), a vocal cord spasm that makes it difficult to speak or breathe, followed by post-operative nausea or vomiting requiring pharmaceutical treatment (0.4%), and 0.17% of events were listed as "other." In the postdischarge analysis, 5% experienced nausea, 3.26% reported vomiting, and 0.3% reported difficulty with bowel movements. The data also revealed that the likelihood of adverse events increased if patients had a prior history of obstructive sleep apnea, pulmonary disorders, postoperative nausea and vomiting or motion sickness. However, knowledge of these types of preexisting conditions allowed dentist anesthesiologists to adjust their treatment plans and compensate for adverse effects. There we no serious adverse events that required hospitalization.
The researchers concluded that the low percentages of adverse events provides evidence that anesthesia-based treatment is both safe and effective in pediatric dentistry. However, such a conclusion would not have been researched without the corralled information in the Society for Ambulatory Anesthesia Clinical Outcomes Registry. Researcher Alison Speara commented: "Working together, pediatric dentists and dentist anesthesiologists are able to provide a safe, efficient, and effective model for addressing the most common public healthcare problem in the United States today: early childhood caries."
Full text of the article, "Office-Based Anesthesia: Safety and Outcomes in Pediatric Dental Patients," Anesthesia Progress, Vol. 64, No. 3, 2017, is now available at http://www.anesthesiaprogress.org/doi/full/10.2344/anpr-64-04-05.
###
About Anesthesia Progress
Anesthesia Progress is the official publication of the American Dental Society of Anesthesiology (ADSA). The quarterly journal is dedicated to providing a better understanding of the advances being made in the science of pain and anxiety control in dentistry. The journal invites submissions of review articles, reports on clinical techniques, case reports, and conference summaries. To learn more about the ADSA, visit: http://www.adsahome.org/.
Media Contact:
Dillon Davis
Allen Press, Inc.
800/627-0326 ext. 226
ddavis(at)allenpress(dot)com
Read the article: Anesthesia Progress, 2017; Volume 64(3): 144–152.