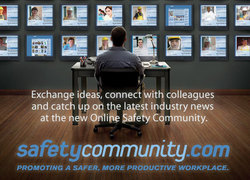 The Internet has revolutionized the way people get information. Think of the Ansell Online Safety Community as a customized 'MySpace' or 'Facebook' type site, but just for the workplace safety industry
Red Bank, NJ (PRWEB) August 6, 2008
Workplace safety professionals who want the ability to interact with each other more than just once a year at trade shows and conferences now have an innovative new resource. The Online Safety Community (http://www.safetycommunity.com) is a free social network where PPE professionals can meet, share ideas and work together to pioneer new ways of making workplaces safer and more productive.
The Online Safety Community is for safety managers, foremen, safety engineers, factory and construction workers and anyone for whom workplace safety is a profession or passion. Built on a popular social networking platform and sponsored by Ansell, the online community allows members to stay up to date on emerging trends, learn about new safety products and interact with PPE experts across different industries.
"The Internet has revolutionized the way people get information. Think of the Ansell Online Safety Community as a customized 'MySpace' or 'Facebook' type site, but just for the workplace safety industry," said Tracey Dodge, Marketing Communications Manager, Ansell Limited. "The Online Safety Community is a great stop for those interested in what's happening in the PPE and occupational safety industry--straight from the people who live and breathe industrial safety."
The Online Safety Community was live in June with industry and host-generated content and in July, it opened up to membership from all workplace safety professionals. As with all social network sites, continuous content and discussions will be provided by community members, thus creating a dynamic forum for safety/PPE and many other industries.
About Ansell Limited
Celebrating more than 100 years, Ansell has long been recognized for the innovations and leadership it has provided the hand protection and safety apparel industry. Besides high quality products, the company offers a comprehensive business solutions approach to help manufacturers achieve their cost reduction mandates. Ansell personal protective clothing (PPC) specialists work directly with corporate and plant representatives to develop highly effective programs with quantifiable results.
With its regional headquarters for its operations in the Americas located in Red Bank, New Jersey and with operations in Canada, Latin America, Europe, Asia and Australia, Ansell serves a wide range of industries, including chemical manufacturing and refining, automotive, construction, food processing, general industrial, pharmaceutical, paper, white goods, semiconductor and electronics manufacturing, and primary metals. Visit Ansell online at http://www.Ansellpro.com.
For more information, contact:
Lara Kretler
Fahlgren Mortine Public Relations for Ansell
614-383-1618
lara.kretler(at)fahlgren.com
###