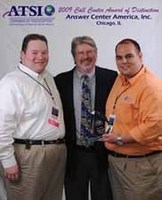 Customer service is the heart of our operation. When we put customer needs first, business needs second, our employees will always come out on top
Chicago, IL (PRWEB) August 3, 2009
The Association of Teleservices International (ATSI) is pleased to honor Answer Center America Inc. (ACA) with the 2009 award of distinction. This unique award recognizes call centers across the United States who provide superior customer service management. ACA recently received this prestigious award at the ATSI 65th annual convention and expo in Pittsburgh, Pa.
Call centers across the United States recognized the need for a tool to measure the customer service skills of their professional agents. As a result, ATSI created the award of distinction as an impartial, third-party means to measure agent courtesy, etiquette and proper call techniques, as well as response time and accuracy. In order to receive this award, call centers must receive an overall score of 80 percent or above in these categories.
"Customer service is the heart of our operation. When we put customer needs first, business needs second, our employees will always come out on top," says Michael McMillan, director of sales and marketing. "With the high level of competition in today's call center industry, we're committed to providing unsurpassed customer solutions to ensure our customers receive first-rate services."
Answer Center America, Inc. is honored to be a recipient of this award. They strive to maintain a high level of care in customer service for many years to come. ATSI extends its congratulations to the staff of ACA on their proven quality service to customers.
About ATSI
The Association of TeleServices International was founded in 1942 as a national trade association representing live answering services. ATSI now encompasses companies across the United States offering specialized and enhanced operator-based services including: call centers, contact centers, inbound telemarketing (order entry), paging, voice messaging, emergency dispatch, fax, and Internet services, among others.
About ACA Inc.
Based in Chicago, IL, Answer Center America, Inc. is an experienced partner in providing seamless call center and answering solutions. Founded in 1995 by Janet Livingston, ACA has proven itself as an industry leader through cutting-edge technology, unwavering customer service, and customized services. For additional information, please visit http://www.goacanow.com.
# # #