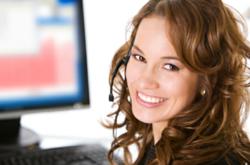 A happy employee comes across as a positive and caring person on the phone and our customers definitely pick up on that.
Lake Havasu, AZ (PRWEB) February 01, 2013
With an average employee turnover rate of 33 percent industry-wide, one would not typically look to a call center company for advice on how to keep good employees around longer. For the average busy call center, a thirty-something turnover rate equates to about four years for a full-time inbound customer service representative (CSR) and three years for a part-time representative.
For Answering Service United, having a lower turnover rate than the industry average means their CSR's can continue to build on their call center experience year after year and less money has to be spent on hiring new personnel to replace those who leave. With the majority of their employees having been on staff for five years or longer and some as many as 20 years, Answering Service United has mastered the task of keeping a low turnover rate. Listed below are five points Manager Sandra Rademacher shared when asked what their company does to help keep CSR's happy on the job:
Hire Right Person from the Start. Rademacker says that having lower employee turnover starts from hiring the best people they can find. They conduct a thorough screening process of each applicant before the initial interview and follow up with a second group interview with each candidate. This ensures that several key people have input into the hiring process.
Provide Family Friendly Environment. Their call center is set up so each CSR works four 10-hour days a week and they rotate weekends. This allows them the flexibility to take care of personal business on their off day. Management also allows them to exchange their days off with other coworkers as needed to attend special school functions or personal events. Management is committed to the wellbeing of their staff members and tries to be accommodating as long as the quality of their work does not suffer. Moreover, when CSR's are required to stay late to cover a large disaster such as the recent Super Storm Sandy, the company provides meals for their workers to keep them nourished during those especially busy times.
Provide Higher Pay and Benefits. Answering Service United pays above what most CSR's would find in other answering service companies as well as offers a good benefits package including 100 percent match on 401k contributions.
Conduct Real-World Training. While the average answering service company trains its new employees from a book, this company believes the best way is by on-the-phone training. Rademacher says that by conducting more role-playing training than book teaching, their new employees learn proper phone etiquette and the importance of treating callers as human beings. Good listening skills and proper manners rank as high as being knowledgeable and having the technical skills to do the job.
Reward Employees. Lastly, CSR's at Answering Service United are rewarded often with desirable gift cards for any number of occasions including work anniversaries, birthdays, going above and beyond for a client or any activity management deems as important to give recognition to. They are also quick to share compliments from clients on the great work their staff is doing. Rademacher says their employees appreciate the acknowledgement and it helps motivate them to keep doing good work.
"I think all of the little extras we do are great for business because you can hear it in our CSR's voices when they answer the phone, Rademacher said in conclusion. "A happy employee comes across as a positive and caring person on the phone and our customers definitely pick up on that."