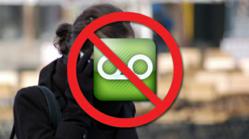 with Fortune reporting that 80% of callers are hanging up when they are sent to voicemail, this outdated technology could have significant consequences on small businesses that continue to depend on it
Portland, ME (PRWEB) December 20, 2012
With the number of non-employer businesses or solopreneurs, increasing from 14 million in 1992, to 22 million in 2010 (US Census Bureau), the small business ecosystem is more competitive than ever and with 80% of callers hanging up when they are sent to voicemail (Fortune/2006), this outdated technology could have significant consequences on small businesses that continue to depend on it, says Jim Plunkett of Main Virtual Office
With neither voicemail to email or voicemail to text technologies taking hold over the last 5 years, the rapidly increasing small business sector, fueled by freelancers and solopreneurs, is creating an increasingly competitive environment and many very small businesses are realizing they can't afford to miss a customer call.
The advent of cloud based scalable contact center software could change this. One company in Portland, Maine – Main Virtual Office – is using a cloud based system that they say allows their receptionists immediate access to a large amount of information about the company that is being called, so they can answer as if they were actually sitting in that companies office. "Our web portal and mobile app allow our customers to sync their calendars, update their status to receive transferred calls and also view and manage their messages, much like they do their email," says Jim Plunkett of Main Virtual Office. "We spend less time on calls because our messaging system is completely automated and it does not use voicemail. In fact, our model is the opposite of our competitors, with our goal to spend less time on calls, allowing us to offer our service at an industry low $79 per month - usually less than what our customers pay for their mobile phone service."
About Main Virtual Office
With solopreneurs predicted to comprise half the US workforce by 2020, and 80% of callers hanging up when they are sent to voicemail, small businesses need a better solution to handle their phone calls. With our professional answering service and mobile app, small businesses never miss another business opportunity again and manage their messages directly from their mobile app much like they do their email.