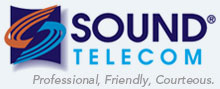 adding an answering service is highly recommended to any company that needs available live support 24 hours a day
(PRWEB) July 29, 2011
Keeping customers happy is a never ending process and quite time consuming, businesses don't always have the ability or the resources to staff a person at all time of the day. Sound Telecom is the solution to these problems by introducing its 24/7/365 Live Operator service. With this answering service you never have to miss an important call ever again, a live person that is a trained answering service agent stands by at all times, so there is never a question of doubt.
With the economy in the shape that it is customer retention is even more important than ever before, giving them live help is a necessary service that all companies should have. There are many ways to cut corners and save money but adding an answering service is highly recommended to any company that needs available live support 24 hours a day. To reinsure that your calls are being answered courteously and by knowledgeable individuals, all calls are recorded so you can listen to make sure they are helpful and answer the questions to your specifications and that you are getting the best value possible.
An easy solution to everyday problems is the reason Sound Telecom exists and the reason they have decided to offer this service. How many times have you lost a customer because you missed their call? There are a variety of services Sound Telecom has to offer along with the answering service, call forwarding, customized message delivery, flexible call handling, and many more. It doesn't matter the type of industry your company is in either, Sound Telecom has the solution needed for all industries.
About:
Sound Telecom is call center and answering service that provides customized, cost effective solutions that achieve your specific call center or answering service needs.24/7 live answer support.
# # #