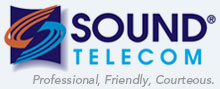 Chicago, IL (PRWEB) November 22, 2011
Sound Telecom specializes in answering services for businesses with courteous, knowledgeable agents. As the U.S. economy climbs its way out of the recent downturn, Sound Telecom provides sound advice for growing businesses.
Stay Original
Every business starts small. Steve Jobs and Steve Wozniak started in a garage; McDonalds was once just another corner BBQ joint in San Bernardino; and Starbucks was once just a coffee shop in Seattle's Pike Place Market. While companies grow, it is important to not loose sight of unique identity. For example, while Amazon.com now has tens of thousands of employees around the world, they still use "door desks" to harken back to their humble beginnings. Businesses should hang onto unique traditions to help build a sense of company loyalty and pride.
Become "Glocal"
As your company grows beyond the country's borders, it is important to keep the local needs in focus as well. With growth comes the ability to purchase and move products and services with greater value and profitability, but a global business needs to also keep local needs in mind.
Always Be Scalable
As they grow, many companies find themselves limited by some "bottleneck". It could be staff limitations or resources, but unfortunately (and easily fixable) it is often a technology limitation. Your business shouldn't waste countless hours or frustrate your customers because your phone system limits the number of offices you can have, or it makes it difficult for customers to reach the appropriate person. Technology upgrades can be daunting. It is highly recommended to seek professional answering service advice when creating a plan for your business needs. Getting on the right track with a solid phone answering service, computer backup, and IT system will enable your business to grow at its own pace and not be restricted by unnecessary slow-downs.
About Sound Telecom
Sound Telecom provides Chicago, IL Answering Services using toll-free or local numbers answered by courteous, knowledgeable and professional call center agents. When you need Telephone Answering Services in Chicago, IL Sound Telecom has a cost-effective solution to meet your specific answering service needs.
# # #