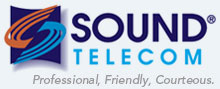 Seattle, WA (PRWEB) December 15, 2011
Many weather forecasters in the Seattle area are predicting severe winter weather toward the end of November and early December. Unfortunately, many businesses and government agencies are caught off-guard by the inclement weather. National answering service provider Sound Telecom has some advice for local business.
With the winter weather comes the typical outcomes for businesses:

Blackouts and brownouts
Equipment brakeage and failure
Office damage from flooding or ice
Massive employee downtime from seasonal illness or accidents
Failure of city utilities from winter storms
As the low-pressure systems roll through off of the Pacific coast, it is important for businesses and government agencies of all sizes to have a back up solution available. Regular computer system back-ups are always wise, but a business continuity plan is also in order before the worst of the winter storms roll in and threaten business operations. The advantages of a business continuity service are:

Retain customers
Realize cost savings
Safety and security for employees
Redundant, geographically diverse solutions
For the well being of the business during emergencies, it is critically important to contact a disaster recovery service and schedule a consultation appointment to assess the organization's specific needs. Sound Telecom has served Seattle area businesses with disaster recovery through numerous winter weather seasons and look forward to helping other businesses stay safe and prepared this season.
About:
Sound Telecom is call center and answering service that provides customized, cost effective solutions that achieve your specific call center or answering service needs. 24/7 live answer support.
###