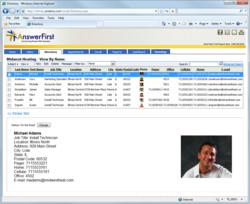 Tampa, FL (PRWEB) April 19, 2013
AnswerFirst Communications, an international answering service and customer service solutions provider, announced this week that they have converted to a new customer care center solution and upgraded their infrastructure in order to support their rate of growth, provide more services and offer improved reliability and redundancy.
According to their website, the conversion finalized on April 17, 2013 and included upgrades to the company's call center software along with a migration to an all new telecommunications platform. AnswerFirst's infrastructure is now located across several geographic locations and is capable of near seamless movement should any natural or man-made disaster hit part of their network. The migration and upgrades will result in increased reliability, and many new features and capabilities which will allow AnswerFirst to provide new and improved services including intelligent scripting, improved scheduling capabilities as well as more dynamic account creation and management and overall improved customer service experiences.
AnswerFirst CEO, Matt Herron, stated, "We've been ready to migrate to a new call center platform for a long time, but I knew it was important for us to be diligent in choosing a new solution. The reliability and redundancy of potential solutions were just as important as finding something that was robust enough to grow with us. We made a final decision more than 6 month ago and we've been working steadily towards implementation since then. While we're excited about finalizing the conversion, we're even more excited about the entirely new suite of services that we're going to be able to offer our partners after we're running the new platform. There are many exciting developments just around the corner!"
AnswerFirst is based in Tampa, FL and began providing basic answering services in 1985. The company currently employs almost 100 people across the United States and provides complete contact center and customer service solutions to more than 1800 companies around the globe.
For more information about AnswerFirst's answering service and call center solutions please visit their website or call.