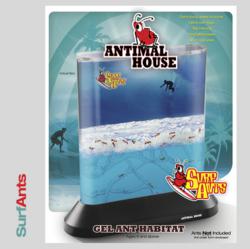 We are very excited that SkyMall has chosen our line for the summer catalog. They have a great catalog with lots of interesting products and that is a good fit for us
(PRWEB) July 01, 2008
Corona del Mar, CA (PRWEB) July 1, 2008 -- Passengers on domestic airlines will soon discover an original twist on an old family favorite: the "Antimal House" gel ant farm. Antimal House LLC officially announces its toy/novelty line of themed ant gel habitats now available through SkyMall, the in-flight consumer products catalog. The SkyMall catalog is available on all major domestic airlines as well as their website.
"We are very excited that SkyMall has chosen our line for the summer catalog. They have a great catalog with lots of interesting products and that is a good fit for us," company co-founder Greg Burns was quoted.
Going beyond the typical toy/novelty experience, these themed, gel-filled ant habitat displays cross several retail categories and demographic segments with "SurfAnts", "SnōAnts", "MutAnts", as well as the widely-anticipated "BeerAnts". Plans are also underway to introduce "ArmyAnts", which will be available in the fall.
The displays feature a unique lighting design, which makes the clear gel seem to glow. Visitors to http://www.antimalhouse.com, can watch time-lapse videos of the ants frenetically tunneling through the clear gel material, depositing the excavated "foam" back on the surface as they create unexpected, one-of-a-kind designs. As a result, each display becomes a living sculpture, providing on-going entertainment for kids and adults alike. Offering a wide variety of versatile applications, they are perfect for the kid's bedroom, the kitchen window or on the desk at the office.
All Antimal House products have been well received in test markets. The products will be made available through their own website, direct marketing catalogs like SkyMall and select retailers in the U.S. and abroad.
Antimal House also supports charitable causes by donating a portion of profits to social and environmental organizations like Habitat for Humanity, Surf Rider Foundation and the Salvation Army.
Antimal House is a Southern California based novelty toy designer and manufacturer specializing in themed gel ant habitats (ant farms). The company produces products overseas and distributes products throughout the US and abroad via internet, direct marketing and select retailers. Inquiries can be made through the company's website.
Contact information is available at the firms website or the BeerAnts website.
Antimal House LLC
3535 E. PCH #28
Corona del Mar, CA 92625
info @ antimalhouse.com
###