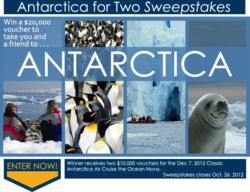 Antarctica is a bucket list trip in every way, and this could be an opportunity of a lifetime for two lucky travelers.
Missoula, MT (PRWEB) October 11, 2012
The industry-leading travel company Adventure Life just unveiled an Antarctica cruise sweepstakes that will award one lucky contestant with a $20,000 voucher for two aboard an Antarctica cruise December 7-13, 2012. The winner will be selected randomly and contacted by email. The sweepstakes can be entered online at http://www.adventure-life.com/contests/antarctica-sweepstakes.php or via Facebook or Pinterest. No purchase necessary.
"This is one of the most exciting promotions we've ever offered," said Adventure Life Marketing Director Monika Sundem. "Antarctica is a bucket list trip in every way, and this could be an opportunity of a lifetime for two lucky travelers."
Highlights of this Ocean Nova Antarctica air cruise include sailing along ice-filled fjords and icebergs, viewing sea birds, penguins, seals and whales, and exploring the landscape with expert polar guides by zodiac. Engaging lectures and presentations occur daily, and weather pending, the voyage may include visits to sites such as Paulet Island, Hope Bay, Port Lockroy, Petermann Island, Paradise Bay, Deception Island, and the Lemaire Channel.
The Ocean Nova was built in 1992 to navigate the icy waters of Greenland. Carrying up to 68 passengers, the 73-meter vessel is guided by Danish officers with deep experience in polar navigation. With outside cabins only, private facilities, and a spacious dining room, the Ocean Nova is an ideal expedition ship for discovering Antarctica. It offers a buffet-style breakfast with table service, and lunch and dinner with main course choices. The lounge and bar are open all day with a wide selection of wines and spirits. The Ocean Nova also features a library with a collection of polar-themed books, exercise room, and a clinic with a licensed doctor.
"These Antarctica tours are really unique in that you fly from Punta Arenas, Chile over Cape Horn and the Drake Passage in less than two hours, as opposed to spending two days at sea sailing there," said Sundem. "Once you arrive at King George Island, the largest Island of the South Shetland Archipelago, you will be at the gates of the white continent."
For more information on this Antarctica cruise sweepstakes and all of the terms and conditions, visit http://www.adventure-life.com or call 800-344-6118. The contest ends October 26, 2012 at 11:59 p.m. EDT.
About Adventure Life:
Adventure Life is a company of travelers with a passion for sharing the world with others. Our travel experience runs deep, from years volunteering in rural Africa and Central America, to research trips in Asia, studying in Europe, guiding in the Rockies, and just bouncing around every corner of the world. This deep experience is the reason behind our pioneering approach to travel and award winning itineraries. For nearly 15 years we have been creating personal itineraries that immerse our travelers in the vibrant colors of a place, leaving both our guests and hosts enriched by the experience. From our beginnings as a Latin America specialist, we now offer private journeys, small group tours, and expedition voyages throughout the world. We pride ourselves on our intimate knowledge of our destinations and our dedication to sharing the world. For more information or Adventure Life reviews visit us on Facebook.