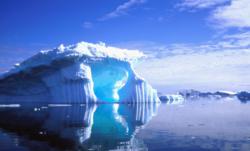 Early February is considered the peak-season for Antarctica travel, but there is nothing like late October and November on the White Continent
Missoula, MT (PRWEB) May 21, 2012
Late October and November is essentially the beginning of summer in Antarctica. Despite being considered the early season for Antarctic travel, it can be an ideal time to visit the White Continent. The ice begins to melt during this period creating fresh and diverse landscapes. The Islands and beaches where most of the wildlife resides retain a layer of pure white snow, revealing Antarctica at its most pristine and photogenic. Plus, it is courting season for penguins and seabirds. For Antarctica information or Adventure Life reviews, call 1-800-344-6118 or visit http://www.adventure-life.com/cruises/antarctica-cruises/.
"One of the most amazing things about traveling to Antarctica during the early season is being among the first to place your feet on the virgin layer of pure white snow," said Adventure Life General Manager Jonathan Brunger. "Another great thing is that there are far fewer ships in the area, which allows much more itinerary flexibility than later in the season."
Highlights of the early season in Antarctica include: Elephant Seal pups and King Penguin chicks on South Georgia Island; Penguin courting, mating, and nest-building activities; Blooming wildflowers and rare orchids; Light–mantled Sooty Albatross, Weddell Seal, and Leopard Seal activity.
"Everything is pristine, the snow just sparkles, and the wildlife activity starts to really pick up momentum during the early season," said Brunger. "Early February is considered the peak-season for Antarctica travel, but there is nothing like late October and November on the White Continent."
Adventure Life offers an array of Antarctica cruises, ranging from luxury expedition ships with ice-strengthened hulls to Russian ice breakers. Depending on your trip-length, travelers can visit the Antarctic Peninsula, Falkland Islands and the mountainous South Georgia. Many Antarctica cruises offer zodiac excursions for up-close encounters with wildlife and icebergs. Experts lecture on the region's natural history, weather, and wildlife. For those looking for something more extreme, the continent can also be experienced by kayaking or onshore camping.
One of the best early season offerings is Ocean Nova's 10-day "Classic Antarctic" cruise departing on November 11, 2012. The trip includes the picturesque Neko Harbor, Paradise Harbor, Wilhelmina Bay, Lemaire Channel, wildlife-filled Penola Channel, and Neumayer Channel. Adelie, Chinstrap, and Gentoo Penguins abound with rare opportunities to see other species such as King, Macaroni, and the elusive Emperor.
For more Antarctica information, or Adventure Life reviews, call 800-344-6118 or visit http://www.adventure-life.com. Prices start at $3,800.
About Adventure Life:
Adventure Life was founded in 1999 with a commitment to providing quality small group tours that have a positive impact on the local culture and environment. With more than 100 adventures in South and Central America, Adventure Life's trips explore local culture, ecology and life from remote villages, to bustling city markets, to the wildest jungles and mountains. The company's grassroots approach to travel utilizes local guides, family run hotels, and the local transportation infrastructure. Adventure Life is headquartered in Missoula, Montana, U.S.A, with partners throughout South and Central America. Adventure Life also offers the broadest selection of specialized expedition cruise services to the world's most remote destinations. For more information or Adventure Life reviews visit them on Facebook.