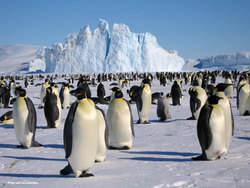 This is a voyage of discovery in the truest sense, a voyage into ever changing territory, an isolated frozen wonderland shrouded in mystery, thriving with the magnificent creatures that have freely roamed the White Continent for millennia.
(PRWEB) September 15, 2010
Few journeys on earth can compete with the sheer exhilaration of a luxury cruise in Antarctica, the world's most remote and final frontier. This is a voyage of discovery in the truest sense, a voyage into ever changing territory, an isolated frozen wonderland shrouded in mystery, thriving with the magnificent creatures that have freely roamed the White Continent for millennia.
Perhaps Antarctica's greatest attraction is that it remains both exclusive and unspoilt. With unpredictable weather and icy conditions dictating passage, Antarctica expeditions to the Falkland Islands and South Georgia region are only possible in the austral summer months. Each shift in season presents a unique beauty; with late spring a time of astonishing courtship displays, full summer a time of midnight sunshine and penguin hatchings, and late summer offering the best whale watching of the season. Take advantage of Abercrombie & Kent Australia's early booking special for the 2011-2012 season.
The voyage to Antarctica is as much an adventure as is reaching the destination itself. Most trips will begin in the bustling Argentine city of Buenos Aires, home of the Tango and the setting for a veritable feast of fine wine and culinary delights. After taking in the city's sights, it's off to the fabled Patagonia, from where most travellers will bid farewell to the South American continent and set sail into the white unknown.
Undoubtedly, the jewel of these icy waters is the spacious MV 'Le Boreal', the first all-balcony luxury cruise ship in Antarctica. This is lavish Antarctica exploration and its prime, with elegant guest accommodations limited to just 199 guests, and stylishly appointed cabins and facilities among the most comfortable available on any Antarctic cruise. As such, cabins and suites offer floor-to-ceiling windows and balconies, inviting guests to enjoy unparalleled views of the wildlife in action. Two restaurants, an outdoor heated pool, salon, spa and fitness centre, complete the amenities on a cruise ship that certainly sets the standard in luxurious adventure travelling. MV 'Le Boreal' also employs the latest eco-friendly travel practices and technology, including using the cleanest-burning marine gas oil fuel and a state-of-the-art positioning system that eliminates the need for dropping anchor in fragile marine reserves.
Getting up close and personal with Antarctica's resident wildlife is all part of the MV 'Le Boreal' eco-tourism experience, with a fleet of Zodiacs on stand by. Designed for safe operations in rough and shallow waters, this is where the thrills of an Antarctica cruise come alive as guests explore remote shores and towering glaciers. Depending on conditions, visitors can expect to see an amazing array of birds, mammals and marine wildlife. These include a variety of seals; orca, humpback and minke whales; dolphins; several penguin and albatross species; upland geese; peregrine falcons; king shags and Magellanic snipe.
Like no place on earth, Antarctica continues to capture the imagination of travellers everywhere. While there are many Antarctica expedition tour operators to choose from, one of the most experienced and exclusive is Abercrombie & Kent, which has been operating Antarctica cruises since 1992. A&K operates in keeping with the adage: "take only photographs; leave only footprints", which is surely the only philosophy to have on a cruise to the unspoilt shores of Antarctica. Operating luxury Antarctica cruises throughout the summer season, A&K offers three itineraries to choose from, for durations of 11, 16 and 17 nights. Currently, A&K are offering an early booking special for travel in 2011-12. Book by 31 March 2011 and save up to USD7910 per couple. Full details can be obtained from the A&K website, or from your local A&K travel consultant.
COMPANY PROFILE
Established in Nairobi in 1962, Abercrombie & Kent is the original luxury adventure travel company and a specialist in luxury travel with a reputation for first class service. A&K has been operating Antarctica cruises since 1992 and is considered the premium choice for eco-friendly expeditions and luxury Antarctica cruises. In addition A&K is a long-standing full member of IAATO and operates in full compliance of all IAATO, Antarctica Treaty, IMO and SOLAS requirements for tourist operations, exceeding all environmental protocols of operation as set by these organisations. Catering exclusively to the most discerning of traveller, A&K are renowned for upmarket luxury travel, adventure travel, and eco friendly travel, offering exclusive itineraries to match the excitement and pristine conditions of Antarctica.
###