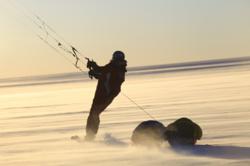 There are few places on Earth that instantly conjure awe and a quiet respect...this Legacy crossing aims to honor their memory.
Los Angeles, CA (PRWEB) October 18, 2011
Noted environmentalist, adventurer and photographer Sebastian Copeland, along with Eric McNair-Landry, on October 27th,will be embarking on an un-assisted 4,200 kilometer transcontinental crossing of Antarctica on skis and kites. The expedition begins on the East coast at the Russian Novo station, cross through the Pole of Inaccessibility (the farthest point from any coast) and the South Pole, and ending on the Western shore at Hercules Inlet, The mission purports to open a new transcontinental east-west route, over the period of 85-90 days without assistance in commemoration of the centennial of Amundsen's and Scott's discovery of the south pole in 1911.
100 years ago adventurers Roald Amundsen and Robert Falcon Scott made history with their first reach of the South Pole. To commemorate their extraordinary feat and courage, this historical crossing aims to honor their accomplishment by opening a never-before traveled course linking the Antarctic coast east to west. The trip will begin in Cape Town; from there a Russian Ilyushin 76 will transport Sebastian and Eric, and their 800 pounds of food and gear to the eastern coast of Antarctica at Novo Station. They will then set off on the estimated 85-90 day journey, through the coldest continent on Earth. The first major reaching point will be the Pole of Inaccessibility, and then they travel across the geographic South Pole, ending at Hercules Inlet. Among the many challenges they will face are the herculean effort of pulling 400 pounds up the glacier through treacherous hidden crevasse fields; -40C to -30C degree average temperatures outside of wind chill; frostbites; changing weather patterns that can turn to hurricane strength storms; the bone rattling hard ice and the sastrugi they will be skiing over at speed with their kites; and much more. How Sebastian and Eric overcome these, as well as the other many challenges, will be documented daily with photographs and the daily blog, and assembled into a documentary.
Says Copeland: "There are few places on Earth that instantly conjure awe and a quiet respect. In 1911, Scott and Amundsen etched their name in history by being the first to conquer the South Pole. This Legacy crossing aims to honor their memory by linking, in one continuous trip, an East/West traverse of the most inhospitable environment on Earth, setting tracks where no man has been before."
Sebastian will use iridium satellite technology to blog daily onto his website. Along with the daily entries, a GPS signal will also track the expedition's progress on a dynamic map at sebastiancopeland.com. The entire adventure will be documented on HD for a planned documentary.
Sebastian will be photographing the ice along the way to document surface conditions that will provide valuable information for the National Snow and Ice Data Center (NSIDC) in Boulder Colorado, information that will help determine snow accumulation along some never before visited areas.
A tree will be planted for each kilometer traveled during this expedition, and the trip will be made Carbon Neutral thanks to Climate Partner.
Other sponsors include HP, Napapijri, Revo sunglasses, Lexar, Rossignol, Ozone, Hilleberg tents, Herbalife and Coldavenger.
ABOUT SEBASTIAN COPELAND
As an award-winning photographer, author, lecturer and environmental activist, Sebastian Copeland has made the fight for the protection of the environment his life's work. His photographic study of Antarctica, assembled in the book Antarctica: The Global Warning, won him the IPA's 2007 Photographer of the Year award. In 2009, Copeland, a board member and tireless advocate for Global Green USA, traveled the Arctic with expedition partner Keith Heger on a journey to reach the North Pole in hopes of raising awareness on climate change and its effects on the Arctic region. The outcome of this voyage is the riveting documentary Into the Cold: A Journey of the Soul (2010). On Greenland, which he crossed in 2010 with partner Eric McNair-Landry, Sebastian set a world record for the longest distance traveled in a twenty-four hour period on skis and kites, with 595 kilometers. As an international speaker on climate crisis for over a decade, Copeland has addressed audiences at the United Nations, the World Affairs Council, the General Assembly on Climate in New Orleans, the George Eastman House, Google Headquarters and to Apple's Senior Design Team amongst others. He has appeared on Larry King Live, NBC, NPR, Air America, and Al Gore's Current TV, as a champion of environmental causes. You can follow Sebastian on Twitter at @sebcopeland, become a fan on Facebook at http://www.facebook.com/SCopelandAdventures and visit the official site at http://sebastiancopelandadventures.com/
ABOUT ERIC MCNAIR-LANDRY
Eric McNair-Landry studied engineering at Acadia University. In 2004-5 he took off a year of school to join the family Kites on Ice Expedition and became the first American/Canadian to haul un-resupplied to the South Pole. Eric has crossed the Greenland ice cap in its 2300 km South-North axis and holds, with partner Sebastian Copeland, a world record for the longest distance traveled on kite and skis over a 24-hour period, with 595 km. In 2011, Eric and his sister were the first to travel the length of the Northwest Passage in winter on skis and kites. Eric is passionate about kiting. When there is no wind, he spends his time in teaching himself computer graphics and website design.
Sebastian's blog posts and updates during his voyage can be found at: http://www.sebastiancopeland.com
Sebastian on Twitter at: http://www.twitter.com/sebcopeland
Sebastian on Facebook: http://www.facebook.com/SCopelandAdventures
Sebastian has launched a Kickstarter Campaign:
http://www.kickstarter.com/projects/1282530324/antarctica-2011-legacy-crossing
###