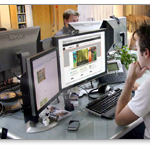 Students will follow the website development process in a real-life situation.

--James Vernon, EdD, Chief Academic Officer, Anthem Education
Cherry Hill, NJ, & Springfield, PA (PRWEB) December 14, 2011
Anthem Institute in Cherry Hill, NJ and Springfield, PA are now accepting students into a new Diploma program in Web & New Media Design.
The program will teach students the technical and design skills needed to create attractive and engaging websites for businesses, nonprofit groups, and other organizations.
Students will train on industry-standard programs used to create webpages, including XHTML, PHP, and JavaScript and scripting tools to make them dynamic and interactive. They will learn to use packages such as Photoshop, Dreamweaver, and Illustrator to create images for websites.
The program also trains students to manage a website project from development through launch. "Students will follow the website development process in a real-life situation," says Anthem Education's Chief Academic Officer, James Vernon, EdD. "They will interact with a client, manage timelines and duties, and create a web-site for the client using accepted usability and accessibility standards."
The Web & New Media sessions will begin January 9. New sessions will start throughout the year.
Anthem Institute has four locations in the New York-New Jersey region and two in the Philadelphia area. The schools offer diploma programs that train students for entry-level positions in a variety of healthcare and technological fields, including:

Computer Networking & Security
Dental Assistant
Graphic Design & Animation
Massage Therapy
Medical Assistant
Medical Billing & Coding
Pharmacy Technician
Surgical Technologist
A seventh campus that focuses on healthcare careers is located in Las Vegas.
Not all programs are offered at all locations. For more information about Anthem Institute programs, visit antheminstitute.edu.
About Anthem Institute
Originally established in 1988, Anthem Institute-Springfield and Anthem Institute-Cherry Hill, founded 1997, are part of Anthem Education, a Phoenix, Arizona-based family of schools and colleges that provides career-focused training and education programs at 23 accredited institutions in 15 states as well as online. The Anthem Education family of schools includes Anthem College, Anthem College Online, Anthem Career College, Anthem Institute, Morrison University, and The Bryman School of Arizona. For more information, visit http://anthem.edu.
For more information about our graduation rates, the median debt of students who completed the program, and other important information, please visit our website at http://www.anthem.edu/disclosures.
###