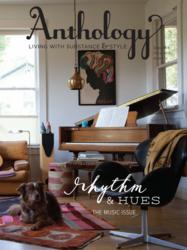 The event will bring together some of the Bay Area's leading publishing voices to explore how entrepreneurs are reinventing print for the online era.
San Francisco, CA (PRWEB) October 02, 2012
On Thursday, October 18 from 6 to 8 pm, Anthology magazine will join showroom and design retailer Zinc Details for a diverse panel discussion called "Print by Design: Celebrating the Power of Print Publishing." Marking Anthology's second anniversary, the evening will bring together some of the Bay Area's leading publishing voices to explore the history and continued importance of print publishing and how entrepreneurs are reinventing the medium for the online era. The evening will also officially launch Anthology's highly anticipated music-themed issue No. 9 and feature a pop-up Anthology Mart, which will sell hard-to-find back issues and a curated selection of fun gifts culled by Anthology editors from Zinc Details' extensive design inventory.
"When we founded Anthology, we strongly believed that readers still wanted something tangible, that holding a publication in their hands was part of a meaningful experience for them," says Anh-Minh Le, editor-in-chief. "We're excited to come together with our friends and colleagues to explore the making of a magazine from a local point of view and what the printed page can offer in an increasingly online world."
Moderated by Zinc Details owner Vas Kiniris, the panel will bring together prominent and emerging San Francisco publishers including Meg Mateo Ilasco, the creative director of Anthology; Kate Woodrow, senior editor at Chronicle Books; and Dan Stone, editor-in-chief of Radio Silence, a new San Francisco-based magazine about literature and rock & roll.
"We continue to see our customers drawn to the tactility and beauty of printed books and magazines," says Vas Kiniris of Zinc Details. "We are proud to be one of the early distributors of Anthology and are honored to partner with them for this event. For such a young magazine, they've made an amazing impact here in San Francisco and across the country. I'm looking forward to what they have in store for us in the coming years."
"Print by Design: Celebrating the Power of Print Publishing" is free and open to the public. Visitors can RSVP at RSVP@zincdetails.com. The event will take place at the Zinc Details showroom located at 1905 Fillmore Street between Bush and Pine Streets in San Francisco.
About Anthology
Founded in 2010 by Meg Mateo Ilasco and Anh-Minh Le, Anthology is a quarterly magazine based in the San Francisco Bay Area that takes a narrative approach to its coverage of home decor, travel, design, entertaining and culture. Each issue is conceived as a collection of stories, all centered around a theme. Anthology is packed with thoughtful columns and features, stunning photography and compelling graphics.
About Radio Silence
Radio Silence is committed to literature and rock & roll. The organization publishes a print magazine of new work by writers and musicians and puts on live events. Radio Silence is a 501(c)3 nonprofit, raising funds to buy books and musical instruments for kids.
About Zinc Details
Now celebrating its 20th anniversary, Zinc Details is an independently owned showroom, gallery, modern design retailer and essential resource for the San Francisco creative community. Founded by Vasilios "Vas" Kiniris and his wife Wendy Nishimura Kiniris, Zinc Details assembles an exuberant mix of art, craft and design that is expertly curated from sources around the globe. Pairing timeless furniture from companies such as Knoll and Herman Miller with playful accessories and art, Zinc Details encourages visitors to make modern design a part of their daily lives and lifestyles.