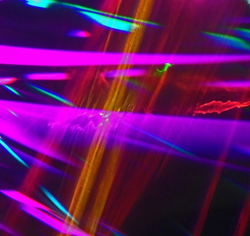 Art has a way of finding you. It is beyond description, but one day you are walking along and you trip over a new potential art form.-Anthony Dallmann-Jones
Fond du Lac, WI (PRWEB) April 24, 2014
Brilliant things are happening in Fond du Lac, Wisconsin. Anthony Dallmann-Jones, a former Madison, Wisconsin, gallery owner has developed a new and very unusual form of photography involving close-ups of yet another of his original art forms: Light Sculptures. This innovative technique has landed the visionary artist a feature on the home page of CODAworx.com, a Madison-based firm dedicated to showcasing the latest art trends.
Light Sculptures are created by special metallicized glass derived from a material originated by NASA. The glass – called "dichroic glass" – was originally being researched to be a sun-block for astronaut helmets and space capsule windows. The unique pieces are now used to create beautiful, vivid displays of light and color.
"I discovered by accident – as so many new art forms are – that close-ups of the background segments of Light Sculptures were brilliant pieces of work within themselves," said Dallmann-Jones.
He uses a special camera to shoot areas of 3 or 4 inches, and by blowing them up to 36 – 40 inches, creates stupendous colors and patterns. They are then framed, embedded in acrylic, or even developed onto aluminum to provide a metallic sheen.
Two Light Ray Photographs found homes as soon as they appeared on the artist's website, SculptedLights.com. One decorates a living room in San Antonio, while the other hangs in a suburban home outside of St. Louis.
Dallmann-Jones's feature on the front page of CODAworx.com marks an important milestone in a nearly decade-long period of research and development. The artist's studio is in the lower level of his home on Wolf Creek just outside of Fond du Lac. A professor at local Marian University by day for over 25 years, he states, "We have now been in full production since January."
About Light Ray Photography
Anthony Dallmann-Jones never planned on being a photographer, nor a light sculptor.
"Art has a way of finding you," he says. "It is beyond description, but one day you are walking along and you trip over a new potential art form. You experiment, get fascinated, then research, conduct trial and error and more research, and then maybe it materializes and maybe it doesn't. But this art form was dead certain from the beginning."
The light beams are his brushstrokes in the Light Sculptures, and then certain combined rays become digital photography – i.e., Light Ray Photographs. Each piece is custom made and very versatile in how it can be displayed on a wall. Examples can be seen in a newly released video, viewable here: http://www.tinyurl.com/LightRayPhotos.
"Sculpted Lights are tailored to customers' dimensions, needs and – to some extent – color preferences," says Dallmann-Jones. "Some people desire a myriad of blues, some prefer brilliant reds and greens, and others are partial to more subdued colors. Because of this, each commission begins with a conversation. Of course, I reserve a certain amount of artistic license and the piece often will not be denied its own voice."
Light Sculptures are designed and created in about 60 days. Corporate or museum pieces can take several months. More information about Light Ray Photography is available at http://www.SculptedLights.com and ZZJones.com. The artist can be reached directly by email at asdjones(at)gmail(dot)com.