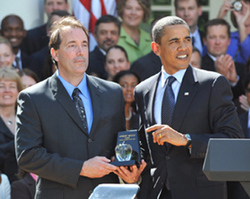 "Our country places too much emphasis on standardized tests as a measure of school performance, in part because few of the people formulating education policy actually have firsthand experience as teachers," says Mullen.
Greenwich, CT (PRWEB) July 2, 2010
During his tenure as http://www.ccsso.org/projects/national_teacher_of_the_year/national_teachers/13292.cfm 2009 National Teacher of the Year Anthony Mullen learned that Americans should be less concerned about competing with other local and state schools regarding test scores, and instead focus more on equipping our children to compete in a global economy.
In an op-ed article appearing in the http://www.greenwichtime.com/local/article/What-I-learned-as-National-Teacher-of-the-Year-542857.php Greenwich Time and Stamford Advocate], the special education teacher and retired New York City police captain also calls on graduating seniors to have high expectations about what they are capable of achieving, and urges the class of 2010 to become the next "greatest generation." 
In 2009, Mullen was named Connecticut Teacher of the Year and later, National Teacher of the Year, the nation's top teaching honor, in a ceremony at the White House presided over by President Barack Obama. During his tenure, Mullen has traveled across our nation and to several foreign countries promoting the teaching profession and advocating for the right of children to receive a quality education. As part of his official duties, Mullen visited most states, many major cities, Japan and the United Kingdom, seeing how education is managed in different states and countries. "I was on a 12 month pilgrimage of learning," he says.
Mullen says that he learned that the Race to the Top (the U.S. Department of Education's $4 billion effort to reform the American education system) will be an arduous task for many states because they entered the race late and way behind the starting line. "States such as Mississippi and Arkansas are being asked to catch up to states such as Massachusetts and Virginia, sort of like you and me trying to catch an Olympic sprinter who had a head start," he says.
"Our country places too much emphasis on standardized tests as a measure of school performance, in part because few of the people formulating education policy actually have firsthand experience as teachers," adds Mullen. "If we continue to shift resources to testing and content, we're taking away something practical and integral to an American education--creativity." 
Mullen says that his experiences as National Teacher of the Year also taught him that politicians need not worry that the American system of education is falling behind the rest of the world as long as our children are provided the opportunity to not only absorb knowledge but to apply it.  "America is a nation of tinkerers and builders and our children need more classroom time dedicated to building and creating than memorizing facts and formulas," he says.
Mullen encourages students to become the next "Greatest Generation," a reference to anchorman Tom Brokaw's book, The Greatest Generation, which chronicles Americans born in the 1920s who endured the Great Depression, fought in the second World War, and afterward came back and helped build the U.S. into the great economic superpower that it has become. "This is the type of generation we need now because we are faced with so many challenges, from economic problems to war and ecological and natural disasters," says Mullen. "I believe we have this generation in front of us, standing in caps and gowns across our country, ready to take on the many challenges facing our nation."
Mullen earned a dual master's degree in elementary education and special education from Mercy College in 2001, and he teaches at the ARCH school in Greenwich, CT, an alternative high school for teenagers with emotional, social and academic issues. 
Prior to becoming a teacher, Mullen spent almost 21 years on the New York City Police department. As a captain in the narcotics division and a commanding officer of a narcotics zone in some of New York's most crime-ridden neighborhoods, Mullen learned that children who drop out of school often end up selling and abusing drugs and alcohol, and they are more likely to land in prison and attempt suicide.
Mullen notes that there are nearly one million dropouts in this country each year. Nearly one-third of all public high school students will fail to graduate with their class. And there are over 2,000 high schools in our nation where less than 50 percent of the student body graduates. 
The one million dropouts will cost our nation over $300 billion in lost income, productivity and taxes during their lifetimes, he says. That figure does not include the billions of dollars we're going to spend on social services and prison costs for them. "We spend about $9,800 per student per capita each year in the United States, yet to put the average prisoner in jail it costs about $40,000," he says. "So we have a $40,000 cost to imprison an individual and a $9,800 cost to educate him or her." He argues that those monies can be better spent on prevention programs earlier in the child's life, including academic, social service and after school programs. 
In the Fall, Mullen will return to his teaching job at the ARCH School, a small, highly structured program for teenagers who cannot adapt to the high school proper either because of academic or more commonly, social-emotional issues.
Mullen wrote the foreword to the recently published book, Chicken Soup for the Soul: Teacher Tales. He also writes Road Diaries, a popular weekly web blog for Teacher Magazine and Education Week about his journey as National Teacher of the Year.
###