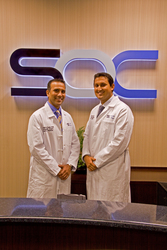 Moseley wouldn't be in position to have this impact if not for the skills of his orthopedic surgeon.
Boca Raton, FL (PRWEB) July 27, 2010
Expertly hurling 249 innings and winning 18 of his 40 postseason starts, New York Yankees 38-year old left-hander Andy Pettitte sits atop the MLB record book in these three prestigious categories. On top of that, he is off to the best start of his 15-year major league career.
Unfortunately for New York, the team will have to do its best to get through the next six weeks and secure that postseason berth without the three-time All Star and five-time World Series champ. Pettitte came up lame with a pulled left groin on Sunday afternoon, but he is still hopeful that it won't be a serious bump in the road to padding his postseason stats.
In the meantime, the Yankees will look to one of their minor league rosters to fill his spot in the big show. 28-year-old righty Dustin Moseley will be getting the promotion from Scranton to sure up the often shaky bullpen, that will be called upon earlier and more often with an All Star out of the starting rotation. Moseley is coming off the best eight game stretch of his career and looks primed to make a splash.
Moseley wouldn't be in position to have this impact if not for the skills of his orthopedic surgeon. Early in his career, he had work done on the ulna nerve in his throwing arm, while most recently it was arthroscopic hip surgery that got him back on his feet. Similar to the surgery done to prolong current teammate Alex Rodriguez's Hall of Fame career, the hip procedure has given Moseley a second shot at big league success.
While many professional athletes turn to the services of big named super star physicians, there are dozens of highly skilled and highly regarded board certified orthopedic surgeons serving their local communities and assisting athletes around the country. One such stellar example is Dr. Manish Gupta of the Specialty Orthopedic Center in Boca Raton, who was trained by Dr. Mark Phillipon, a Master Instructor with the Arthroscopy Association of North America, and is actually the surgeon responsible for getting Rodriguez back in the game.
A graduate of Coral Springs High School and the University of Florida and University of Miami Medical School, Dr. Gupta has lifelong ties to the South Florida area. After completing seven years of residency and fellowship at Seton Hall University and Union Memorial Hospital in Baltimore, Maryland and gaining invaluable professional experience as a member of the National Football League's Baltimore Ravens medical team, he decided to return home to where his heart is.
His tremendous passion for the sports world and desire to help others reach their full potential as athletes and people, along with his superior technical knowledge place him in a perfect position to help those who share that passion or require his expertise to get back on the court or field. Dr. Gupta offers the same full service hip arthroscopy procedure that helped get Moseley onto the Yankees big league roster this week.
A strong proponent of utilizing advanced modality therapy procedures such as PRP injections and other non-invasive preventative measures, Dr. Gupta has proven to be a leader in the modern movement of orthopedic medicine. He acknowledges that the biology of the human body plays an intricate part in the healing process and strictly enforces his hands on policy with patients from initial consultation, through full recovery and rehabilitation.
For more info on Dr. Gupta and the procedures available at his practice go to SpecialtyOC.com.
###