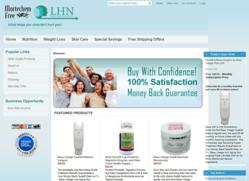 Tampa Bay, FL (PRWEB) November 23, 2012
Liberty Health Network, LLC selects Volusion for the company's new online store vendor just in time for Black Friday shopping.
Liberty Health Network joins powerhouses such as 3M, Motorola, and National Geographic by looking to Volusion Software as a Service (SaaS) Shopping Cart program.
"We always strive to give our customers the best possible shopping experience on the Internet" says LHN Chief Operating Officer Russell Bly. "The new Volusion solution moves us a quantum leap forward in providing the best possible online shopping experience for our customers. Having our new shopping cart online and offering discounts in time for Black Friday is an added bonus!" Bly said.
The new cart is hosted at http://www.golhn.com and serves as an additional marketing portal for LHN products. The new cart joins Amazon.Com as an additional point of access for LHN products.
Customers shop for LHN products and services and watch online product testimonials, application instructions, and product overview videos on many LHN products.
Additionally, the new cart offers digital products such as Internet Web Hosting Packages, Saas Web Applications, eBooks, and more.
To celebrate the new cart, LHN is offering a Black Friday coupon for a 10% Discount on any order. GoLHN.Com customers may use the claim code BlackFriday. Amazon.Com customers will find the coupon already applied.
About Liberty Health Network, LLC
Liberty Health Network is one of the nation's leading Direct and Internet Marketing companies with a state-of-the-art Global Distribution facility in Tampa Bay, Fl. For 12 Years, the Liberty Health Network name has been synonymous with high quality Mortechem-Free Nutritional Supplements, Anti Aging Skin Care, and Internet Web Applications. The statements made on this website have not been evaluated by the Food & Drug Administration. These products are not intended to diagnose, prevent, treat, or cure any disease.
Individuals interested in Marketing LHN Products are encouraged to contact an authorized LHN Independent Associate.
Businesses or Individuals interested in distributing Liberty Products or requiring more information on this topic should contact Chief Operating Officer Russell Bly at (813) 774-8191 or e-mail at office(at)libertyhealthbiz(dot)com