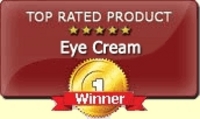 The Dermajuv Eye Revolution Gel can essentially regenerate the youthful look of the delicate skin around the eyes.
Lehi, UT (PRWEB) May 17, 2010
With the summer sun upon us there is no better time to protect delicate skin that gets beat upon with the intensity of summer's UV rays. Dermajuv's Eye Revolution Gel eye cream is an award-winning product that has been clinically tested and guarantees to brighten dark circles, lift saggy skin and smooth rough places by increasing your skin's ability to heal itself and produce a self healing agent - collagen.
The Dermajuv eye cream shows results because of it's focus on four powerful ingredients: Haloxyl®, Eyeliss®, Matrixyl® and stem cells.
The Haloxyl® in the eye cream is one of the few ingredients that has shown long term success in clearing dark circles from under the eyes. The agent works to loosen blood fragments which create the dark circles under the eye. When used in eye cream such as Dermjuv's Eye Revolution Gel the ingredient works to flush pigmented blood cells with each application, lightening the darkness visible underneath the eyes. Haloxyl® has also been tested and proven it's effectiveness in clinical studies.
Along with dark circles there are also many reasons why the skin surrounding the eyes is more prone to bagging and puffiness. Eyeliss®, a clinically tested agent works to prevent bags under the eyes and rejuvenate the skin to it's fullest. Clinical studies have also shown a significant reduction of bags under the eyes when Eyeliss® is a key agent in eye cream or other skin care products. Along with the Eyeliss®, Matrixyl® has been tested and shows "a highly significant reduction in the deep and moderate wrinkles."
These three key ingredients combined in the Dermajuv eye cream along with the healing capabilities of stem cells can essentially regenerate the youthful look of the delicate skin around the eyes.
As of May 2010, the Best Eye Cream Reviews top choice award is Dermajuv Eye Revolution Gel. According to the editor, "Dermajuv is the best eye cream I've ever seen. I haven't seen anything else come close in terms of effectiveness, reliability, and safety.
"I've talked to hundreds of people who have used it and almost every one showed a visible improvement around their eyes, eye lids, and eye brows. They look noticeably younger and their skin looks and feels much healthier, tighter, and brighter after using it," she added.
If you would like more information or to see reviews and first-hand results on the Dermajuv product or other eye cream products you can visit:
http://www.eyecreamreviews.com
###